The U.S. Transportation Industry's Response to Trump's Muslim Ban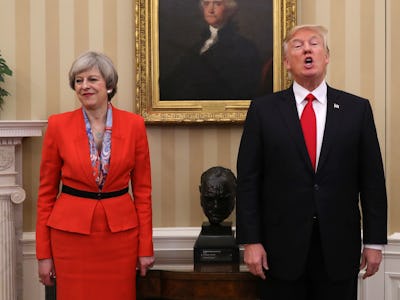 Getty Images / Christopher Furlong
The transportation industry has, perhaps somewhat surprisingly, become a major player in the controversy surrounding President Donald Trump's ban on Muslims. Things came to a head on Saturday when the ban suddenly went into place, leading to massive protests at airports around the country where green-card holders, refugees, and former translators for the U.S. Military were being detained. New York City taxi drivers went on strike in solidarity with the protests. Uber did not — and it's paying a harsh price.
Since then, major transportation companies have seemingly been forced to take a stand — just like the tech industry (and, yes, there is some overlap). Here are some of the most high-profile responses. Inverse will update this list as more statements come in, and given how controversial Trump's presidency has been in not even a full fortnight, there are probably going to be more statements.
Uber
Uber's initial response to Trump's executive order was silence, followed by a message that it was suspending surge pricing on rides out of New York's JFK International Airport. Since #DeleteUber started trending, the ride-sharing company has issued further responses.
That day, CEO Travis Kalanick sent out a lengthy email to all employees pledging the company's support if they were affected by the ban, though the message wasn't as overtly critical as statements that would follow. Kalanick also made an attempt to explain why he agreed to sit on Trump's economic advisory group, and namechecked the other tech and transportation leaders on the group as well.
Kalanick later tweeted that the travel ban "is against everything Uber stands for," and pledged in a longer statement to create a $3 million legal defense fund for any drivers who were affected by the ban.
Lyft
If Uber was a loser over the weekend, Lyft was a winner. The competing ride-sharing company avoided most of the ire that Uber got, and Lyft was praised when it announced it would be donating $1 million over the course of four years to the ACLU.
Since that initial response, critics have noted that Lyft has some pretty powerful Trump supporters on its board, including Peter Thiel. Lyft hasn't addressed any additional concerns since making its $1 million announcement.
Ford
Ford's Executive Chairman Bill Ford and CEO Marks Fields issued a joint statement explicitly stating that the company does not support Trump's executive order.
General Motors
On Sunday, GM's head of human resources, John Quattrone, posted a company-wide memo regarding Trump's ban. The memo, which began by pledging that the company would support any employees who were affected by the ban, was far from an outright condemnation of Trump's executive order. It did, however, suggest that the ban was not in GM's interests:
At General Motors, we value and respect individual differences. We appreciate what each individual brings to the team, including background, education, gender, race, ethnicity, working and thinking styles, sexual orientation, gender identity, veteran status, religious background, age, generation, disability, cultural expertise and technical skill. Empowering these unique perspectives keeps GM on the cutting edge of technological innovation in the fast-paced automotive industry.
Tesla
Tesla CEO Elon Musk came out against the ban in what could charitably be described as an understated manner. Musk, who also sits on the president's advisory council, tweeted that it was "not the best way to address the country's challenges," before asking his 6.9 million followers to read the text of the executive order and give him some feedback. In one response tweet, he seemed to imply that the actual text of the order wasn't that bad.