Jerome From 'Gotham' Picks Favorite Joker, Nails His Answer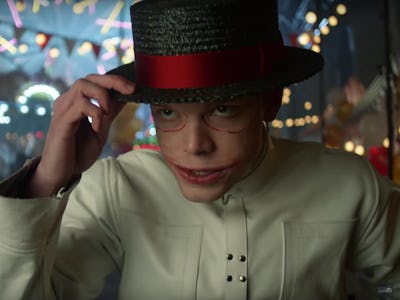 Youtube.com/Gotham
As Fox's Gotham prepares to unleash its winter finale, "Jerome" actor Cameron Monaghan revealed that Mark Hamill's Joker from the cult classic Batman: The Animated Series was the biggest influence in his portrayal of the character. That is, if his character actually is the Joker. It might be! But also, it might not be. Who knows at this point?
While the prequel Batman series continues to play coy whether or not Jerome's resurrected circus boy is, in fact, the legendary comic book supervillain, Monaghan opened up in an interview that Hamill's version was the "only one" he felt comfortable learning from. "If anyone was to inspire my performance, it would be Mark Hamill's animated Joker," he said. Monaghan also added he has "well over fifty" trade paperbacks of Batman comics to help him hone his craft in between shooting.
"There was never a moment where I was intentionally cribbing from another actor," Monaghan said. "I grew up watching other actors design the character of the Joker to me and obviously the part was paying tribute to the Joker, and so I wanted to … perform it to the best of my abilities in a way that it seemed to be paying homage to the character."
A nice result of Monaghan's intense dedication to the character is that his "Joker", if we want to call it that, is one of the better things about Gotham, which in its third season continues to be an anomaly in the era of interconnected comic book TV shows. It's definitely a bold take on the Batman mythos with its slow burn origin of the Dark Knight, but it's also tonally at odds with itself perhaps too often. Is it a serious Batman show, or is it a goofy TV series about supervillains? One thing's for sure, there's no one better suited to tow that line than Joker.
Gotham airs Mondays on FOX.