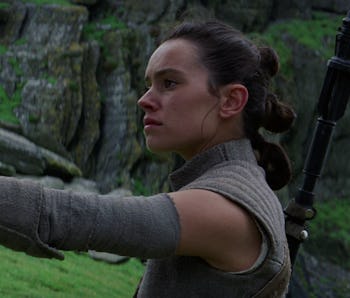 Entertainment
'Star Wars: The Force Awakens' and 'The Last Jedi' Make a Sentence
Disney
Star Wars fans were buzzing with speculation about who the titular last Jedi is, following the long-awaited reveal of Episode VII's title last week, but now it seems that there's another mystery in a galaxy far, far away — and this one involves proper grammar.
Folks noticed that when you put the titles of Episode VII and Episode VIII together, you get a complete, grammatically correct sentence: "The Force Awakens the Last Jedi."
It is, clearly, the first time this has happened in the Star Wars series. ("A New Hope the Empire Strikes Back" doesn't quite cut it as a real sentence.) While this is an amusing little bit of trivia on its own, some fans on Twitter and Reddit speculated, half-jokingly, that Episode IX's title might continue this trend and finish off the sentence.
Given that sleep in the Star Wars universe isn't always pleasant — we've seen slumbering characters dream about death during childbirth or snooze in the stinky guts of a dead tauntaun — the last Jedi might be in for a rude awakening.
Coffee apparently exists in the Star Wars universe, so maybe the Force just brewed a mean pot of java… or maybe it's something a little more abrupt.
In any case, it's going to be quite a while before we learn what Episode IX's real title is, giving the folks at Disney plenty of time to make sure the syntax is perfect.