Netflix's 'Iron Fist' Episode 7 is Reportedly Extra Violent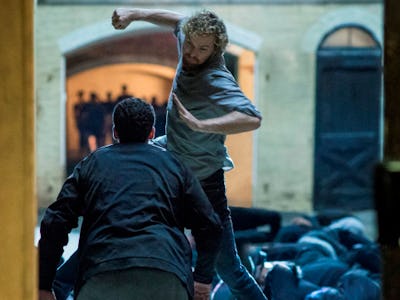 Netflix, Marvel Studios
The heroes of Defenders on Netflix are a different breed than their Marvel big-screen counterparts.
Whether it's through with sex, drugs, or violence, Netflix's characters are out for blood, as we'll definitely see in episode seven of the upcoming Iron Fist series on Netflix, which is rated 18 for "Strong Bloody Violence."
Since the infamous hallway fight scene in the first season of Daredevil, Netflix's Marvel Universe was the dark and gritty answer to the more mainstream blockbuster universe built in theaters. Since then, Netflix and Marvel have only ramped up their shows in the following series like Jessica Jones, Luke Cage, and Punisher's appearance in Daredevil's second season.
While there is no plot synopsis to go along with Iron Fist's episode listings, Episode 7 "Felling With Tree Routes" will be the first and only episode in the season to be rated 18, suggesting that something particularly hardcore will be happening there.
Iron Fist follows the story of Danny Rand, the heir to the multi-million dollar Rand Corporation. During a trip through Asia, both of Danny's parents were killed, orphaning him in the hidden village of K'un-Lun. There, Danny learns the secret martial arts of the village, eventually becoming K'un-Lun's best fighter, and inheriting the title of the mystic Iron Fist.
Steeped in the traditions of kung-fu films, Iron Fist will probably bring highly choreographed action sequences, but will most likely incorporate the grittiness of the fight scenes seen so far in Marvel's New York City-based superhero shows.
Whether or not this "Strong Bloody Violence" lives up to the Daredevil vs. Nobu fight scene in the first season of Daredevil remains to be seen.
Iron Fist bursts into action on Netflix March, 17 2017.