Sophie Cruz Wins Hearts at the Women's March on Washington
The 6-year-old inspires the gathered crowd.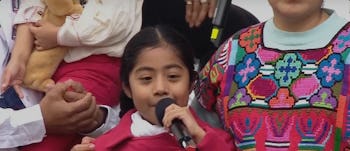 Twitter/ @ninjasforhealth
Thousands of protestors descended upon Washington, D.C. the day after Donald Trump's presidential inauguration. Among the sea of pink hats and creative signs, a small but powerful figure rose above the scene. 6-year-old Sophie Cruz, the daughter of two undocumented immigrants, delivered a message of hope, tolerance, and resiliency to the gathered protestors. And people are going crazy for her.
Sophie, who made headlines when she met the pope and visited the White House, spoke on Saturday before the gathered crowd. "Fight with love, faith, and courage so our families won't be destroyed," the diminutive orator told the crowd in Spanish. "I am here to tell the children, please do not be afraid. We are not alone." She then rallied the crowd, chanting, "Si se puede!" which means "Yes, it can be done!"
During her speech, Twitter began lighting up with adoration over this young activist.