The White House is Already Gutting LGBT Rights Pages From Its Website
It's been replaced with issues including military growth.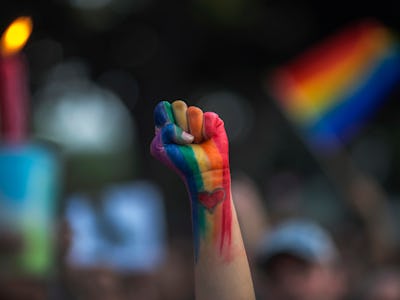 Getty Images / David McNew
The Trump administration wasted no time in making WhiteHouse.gov its own. All of former President Barack Obama's pages have been archived, and it's extremely telling which ones have not received Trump administration updates. There's no longer a Spanish option on the website, there's info on getting rid of the Climate Action Plan, and now, the page dedicated to LGBT rights has also been wiped off the board. While jarring, it's not completely unexpected due to the new administration's past treatment of the disenfranchised community.
By the end of Barack Obama's term, the White House website had a fully fleshed out section devoted to his administration's progress on LGBT issues, which was housed at (https://www.whitehouse.gov/lgbt). TechCrunch notes that right after the inauguration, the page used to redirect to a Trump update signup form. However, the URL is now dead, and visitors will get a message reading "The requested page '/lgbt' could not be found."
This is how the page looked under the Obama administration, which can be viewed using archive site Wayback Machine:
Also on the website when Obama was still in office was a banner that included a drop down menu of issues including civil rights, climate change, economy, education, and more, which all had their own pages. All of these pages can still be accessed through internet archives, and other White House documents from Obama's terms can be found on the government's archive, such as a fact sheet outlining Obama's record with the LGBT community, originally found in the Briefing Room section of the website.
While these sorts of social issues have been scrubbed from the updated website, Trump's administration has found time to add information about a slew of topics that paint a picture of what they prioritize. Issues including "Making Our Military Strong Again" and "Standing Up For Our Law Enforcement Community" have been addressed.
People on Twitter have pointed out some of the worrisome language on these pages, notably that "President Trump is committed to eliminating harmful and unnecessary policies such as the Climate Action Plan and the Waters of the U.S. rule."
While Trump himself hasn't said anything explicitly anti-LGBT, many people have pointed out that his staffers and many of his Cabinet picks are. Additionally, Vice President Mike Pence has a long history of supporting homophobic causes. He supported a constitutional amendment to ban marriage equality and diverted funds toward conversion therapy.
It's unclear whether the Trump administration will be adding White House pages concerning LGBT rights. However, considering its past actions, it's highly unlikely to be anything positive, even if it happens.