The Moogle Chocobo Carnival is Coming to 'Final Fantasy XV'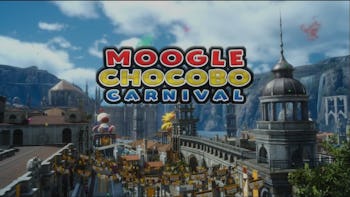 Square Enix
Welcome! 'Tis the season for the Moogle Chocobo Carnival, that age-old Altissian festival in which people come out in droves donning shiny purple Moogle hats and the locals compete in Chocobo races and, well, dance-offs. But perhaps you're from out of town. "What is the Moogle Chocobo Carnival?" you might ask. To put it simply, it's a Final Fantasy XV in-game celebration that kicks off on January 23.
Judging from the teaser Square Enix dropped today, Altissia will be decked out in colorful Moogle- and Chocobo-themed regalia, while floats of the popular Final Fantasy mascots perch on the rooftops. The event will appear in an update, but you'll need to download either the free or premium Holiday Packs in the PlayStation Store to gain access.
Once that's done though, you're all set to enjoy what's shaping up to be quite a party. It looks like there will be carnival-themed clothing, Chocobo racing, and a gallery shooter mini-game, and lots and lots of confetti.
We also got a brief look at a new "Square Enix Cafe" set up in the city. If you haven't been lucky enough to visit the cafe in real-life, you'll at least get the chance to unlock some exclusive new recipes, like the decadent Kupoberry Cheesecake, in the game.
While Noctis tours the festival grounds solo in the trailer, we're hoping we'll be able to explore with the rest of the crew in tow when the Carnival opens next week. It should be a nice break from rebelling against the Empire, at the very least.