Twitter Was the Only Thing Worth Watching During the Inauguration
A shining light in a dark tunnel tbh.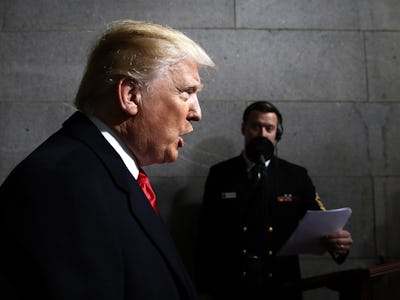 Getty Images / Win McNamee
Other than quoting Bane from The Dark Knight Rises and dumping on several of the politicians seated next to him, Donald Trump's inauguration as the 45th president of the United States seemed to go off without a hitch. But the world was watching — and tweeting — the whole time, so there was still catharsis to be had. We took the liberty of rounding up some of the best reactions.
Comparisons to fictional dictatorships, jabs at the new president, and some glorious memes ran amok. Honestly, Twitter was pure gold from start to finish. The United States might be a country that honors the peaceful transition of power, but Twitter was anything but passive.
Anti-Trump sentiment was strong.
The Obamas and Hillary Clinton were used to sum it all up.
But this was a shining final moment for the Diamond Joe meme.
Trump supporters were pumped and everyone else had jokes.