For Nintendo Switch Fans, 'Zelda' and Portability Are Key
New York's Nintendo faithful stood waiting in the cold for some Switch action.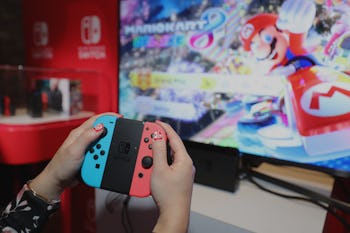 Getty Images / Neilson Barnard
A northeastern frost couldn't stop loyal Nintendo fans from getting one-on-one time with the Nintendo Switch on January 15. The forthcoming home/portable console hybrid from Japanese giant Nintendo was open to the public this past Sunday in New York City at a "secret venue" on the second floor of a building on Sixth Avenue. For a few hours, several hundred fans from the five boroughs and beyond got to try the Switch and all it will have to offer upon its release on March 3.
In talking to fans who willingly chose to power through the cold, a few patterns emerged. Here are the three biggest things Nintendo fans largely agreed upon regarding their hopes and anticipation for the new Nintendo Switch.
3. Nintendo Might Have Nailed This "Portable" Thing
Nintendo revolutionized gaming when it released the Game Boy in the summer of 1989, when Andrew, now a 28-year-old web developer, was just a year old. His father bought a Game Boy for the both of them to share, and Andrew has been a Nintendo loyal ever since. He came that Sunday to the Switch demo representing: he wore a Mario sweater underneath his thick winter coat and a Pokémon GO Plus on his right wrist.
But the Switch, Andrew says, is what the industry has been moving toward and Nintendo — which had a hand in mobile games like Super Mario Run in 2016 — might have bridged the gap between home gaming and on-the-go play. The fact that the Switch is portable "at that level of performance" and "that it's kind of a realization of what mobile gaming's been trying to do for awhile," says Andrew, is what excites him the most.
Andrew's sentiments were echoed by Brooklynites Alec, 34, and Mae, 31, a couple from the UK with family still across the pond. Because of their regular travel home, the Switch's portability and its region-free games is an instant sell. "We travel a lot, so any console we can take with us is good," says Mae.
"A full Zelda on a handheld [looks] amazing," says Alec.
2. The Wii U: Close, But No Cigar
Nintendo's last console, the Wii U, is something of a forerunner to the Switch while lacking in actual portability. Released in 2012, the Wii U also attempted to bridge traditional and portable gaming, but its technical limitations prevented the console from being fully realized. While some games took advantage of the GamePad's screen, it was a downer that its unwieldy, bulky shape meant it couldn't be carried easily on commutes.
Fans in line for the Switch said they bought the Wii U and enjoyed it for what it was, but many agreed it just wasn't the console they ultimately wanted.
"I think Switch is what [Nintendo] really wanted to do but weren't able to at the time — I guess the technology just wasn't there," says Ihsan, 29, who does customer support for e-commerce websites. "[The Wii U's] GamePad idea is great, but you wanted to take that GamePad with you outside and that wasn't possible."
Ihsan, also a longtime Nintendo fan, says he has "a lot of faith" in Nintendo and its newfangled Switch. Ihsan opines the Switch may still be a "second console" or "supplement" to the more powerful boxes from Microsoft and Sony, similar to what Nintendo's previous consoles have been. But he also believes the Switch can offer something neither the Xbox One or PS4 can: "Nintendo did a lot of things wrong with the last generation, but I think they're going to fix a lot of those if they want to be in that competitive [gaming] market."
"The fact you kind of had to babysit the GamePad when it wasn't in use [irked me]," says Andrew. "It was a good idea, I just think it was a marketing failure."
1. The Legend of Zelda Is Truly Something
The one game these fans wanted to see out of the Switch's modest launch slate was unanimously The Legend of Zelda: Breath of the Wild. The next major installment in Nintendo's popular fantasy franchise, Breath of the Wild is an open-world adventure game that once again stars Link, now awakening from a 100-year deep sleep with amnesia.
Originally meant for the Wii U, Breath of the Wild eventually became a Switch game, and following Nintendo's presentation last week, it is officially a launch title. And though the launch slate doesn't have a lot of third-party games or even a robust first-party roster, Zelda and the promise of the new Super Mario Odyssey at a later date are enough for Nintendo fans to get their pre-orders in.
Other games for the Switch include Arms, a quirky tech demo that looks like a mash up of Rock 'Em Sock 'Em Robots and Slinky, a re-release of Mario Kart 8, and Splatoon 2, the kid-friendly multiplayer shooter that wound up one of the most popular Wii U titles in the system's lifespan. But it's the new Legend of Zelda that made Andrew already get in his pre-order for the Special Edition. He also said he'll try to get the Master Edition.
"This is just the tip of the iceberg," Ihsan said as the wind blew and chilled the line. No one seemed bothered.