9 Groups to Donate to Under Trump
These lesser-known groups are doing important work.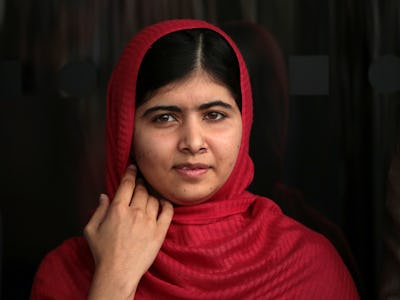 Getty Images / Christopher Furlong
Last November, Last Week Tonight host John Oliver issued a public call to action on behalf of a number of charitable organizations ready to push back against President Donald Trump's agenda. He named well-known organizations including the NAACP Legal Defense Fund and Planned Parenthood as groups that need the public's help.
Along with these household names, there are a litany of smaller organizations with more specific focuses and also seeking financial contributions. Here are 9 more organizations whose work you can support under Trump's administration:
Earlier in January, Trump announced at a press conference he was appointing Dr. David Shulkin to be Secretary of Veterans Affairs. He's the current Obama appointee in charge of the veterans' healthcare system. Trump promised to work with Shulkin to optimize services for ex-service members. While the entire country hopes he makes good on that promise, there's still room for individual contributions to Veterans Affairs in the form of donations or volunteer work. The VA website lets you choose exactly which facility of its many across the country your donation will go toward, helping fund programs such as transportation services, rehabilitation equipment, recreation programs, homeless Veteran's services, holiday gifts, and more.There are few groups more deserving of the aid and gratitude of the public more than military veterans.
Considering that Trump has said that women should be punished for receiving an abortion and an attorney general nominee who has called Roe v. Wade "one of the worst, colossally erroneous Supreme Court decisions of all time," women's rights to proper healthcare and reproductive control are in more danger than ever. Planned Parenthood may be the first organization that comes to mind when it comes to this issue, but there are others doing similar work. When it comes specifically to access to safe abortions, the Abortion Care Network is seeking to integrate abortion care and conversations into the community of care at large. It also works to reduce the social stigma surrounding the difficult decisions which some women face.
Trump has also spoken loudly and often about reducing the amount of foreign aid the U.S. doles out. When he talks about that aid, it often revolves around the NATO military alliance. But not all foreign aid is military in nature — much of it goes to humanitarian causes. The Malala Fund, named in honor of Malala Yousafzai, focuses on safely securing up to 12 years of education for girls in the Middle East, in places where they might be denied it otherwise.
The Syrian Civil War has resulted in millions of refugees since its outset. Even if the United States winds up tightening its borders to refugees under Trump, there are still ways that you can help. The Syrian Refugee Fund allocates donations for critical resources like food, clothing, and medical supplies that will go to refugees from the conflict.
Even though marriage equality has finally been ingrained in U.S. law, there remains an ongoing homelessness crisis among LGBTQ youth in cities. These homeless youth are more likely to fall victim to sexual assault, domestic violence, HIV infection, and other conditions. The Ali Forney Center focuses on providing temporary and permanent housing for these individuals, as well as counseling and outreach.
Trump's border wall is going to be expensive. So are the legal battles against unjust immigration policies that affect the lives of millions. The National Immigration Law Center helps defend the rights of immigrants with respect to essentials like healthcare, employment, and residence.
The Southern Poverty Law Center fights hatred in the courtroom. For decades, the Law Center has worked as an advocate for groups who have low visibility in society. It also keeps tabs on the views and activities of various hate groups around the country and isn't afraid to challenge them.
With the "debate" about climate change still unsettled and Trump waging war on organizations like the Environmental Protection Agency, independent action regarding climate change is perhaps more important than ever. The Climate Science Legal Defense Fund's goal is a simple one: "Let scientists conduct research without the threat of politically motivated attacks."
Music and arts programs are often among the first to go when public school districts start cutting budgets. This is hugely detrimental to the growth and development of students. With Betsy DeVos as the likely next Secretary of Education, these programs may find themselves under further duress. DeVos has displayed a lack of concern for the fate of public schools in favor of "school choice" programs, which are often just carefully disguised aid packages for private schools. Save the Music hopes to help public schools retain essential music programs by funding teachers and equipment so that students can keep jamming on.