Donald Trump Is Dragging Us All Into Bad 'Sherlock' Fan Fiction
It's "A Scandal in Bohemia" in America.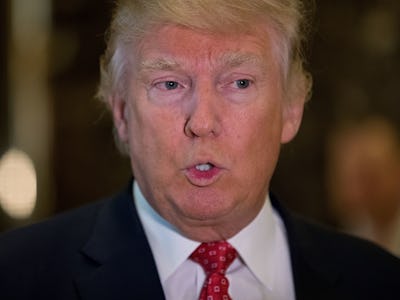 Getty Images / Drew Angerer
According to a compilation of memos just released, Russia has compromising personal and financial material on Donald Trump. CNN is independently corroborating the allegations in the memos before publishing the details, but so far all this is sounding like a bad spy novel, albeit one that involves golden showers.
It's actually like the real world just stole the plot from Arthur Conan Doyle's "A Scandal in Bohemia." Or in other words — the one Sherlock Holmes story where Sherlock is totally hoodwinked by Irene Adler. The parallels between the story and the breaking political situation are so close that the real world looks like bad fan fiction.
In "A Scandal in Bohemia", Holmes is working on a case for the king of Bohemia, because his former mistress is blackmailing him. So Holmes and Watson go out to try and steal the pictures back. However, Irene Adler is quite cunning and sees through the disguises and tricks that Holmes is using to try and take away her leverage. She lets Holmes think that he has caught her and then drops a cute note and escapes with the blackmail.
A simple substitution of Trump for the king, the U.S. intelligence agencies for Watson and Holmes, and Putin for Irene Adler and bingo – Russia has compromising material on the future President of the United States.
If we, the citizens of Bohemia America are lucky, this version of the story will be closer to the BBC Sherlock's interpretation, and Holmes will manage to control the incriminating photos. But this could be as bad as it seems. And either way, you're stuck with the image of Putin as a dominatrix in your head. Fuck.