Bill Ford Says Trump Wasn't a Factor in Decision to Cancel Mexico Plant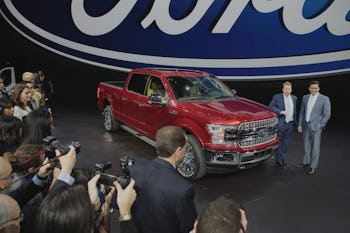 Bill Ford clarified to reporters on Monday morning that the automaker's decision to cancel plans for a $1.6 billion plant in Mexico was a business decision, in the wake of Donald Trump's tweets that suggested otherwise.
"We made that decision," Ford said shortly after Ford's presentation at the Detroit Auto Show. "It was the right decision for us, it was the right business decision. We always make the right business decision at Ford, but I think it's important that we inform [Trump] of that. It's important that we understand his policies and where he's going."
The executive chairman and great-grandson of Henry Ford said earlier in the day to CBS that he had a good relationship with Trump and that "He's very different, as you might suspect, one-on-one, than over Twitter."
Ford said he talks with Trump about "trade policies, currency fluctuations, tax policy; all the things that affect our business. I've found him to be very informed and very respectful of our position."
Ford's seen as a visionary at the company, one who can, in the words of author and Aspen Institute president Walter Isaacson, "see around corners." He called mobility a "human right" during his remarks on Monday, citing gridlock and congestion as serious barriers to healthcare and economic growth, as well as an element keeping growing populations in poverty. He gave a TED Talk that's famous within the company as setting in motion the 113-year-old company's current mission of mobility, that in the last year, involved the purchase of commuter van startup Chariot. In the next five years, the company will debut some 13 electric vehicles (many hybrids), and has plans to achieve Level 4 autonomy by 2021.
In November, Trump tweeted (a clear "exaggeration") that he received a phone call from Ford who told him he wouldn't be moving Ford's Lincoln MKC plant in Kentucky. Per the Washington Post:
Ford's contract with the United Auto Workers prevents it from shutting down the factory in question, the Louisville Assembly Plant, or from laying off workers there without engaging further talks with the union. The company clarified that it had merely decided not to move production of a single vehicle, the Lincoln MKC, out of Kentucky.
Ford announced on January 3 that it would instead spend $700 million for a plant expansion in Flat Rock, Michigan. Also, its Focus model will be built an existing plant in Hermosillo, Mexico, "to improve company profitability."
Praise for Chao
Also on Monday, Ford made room to praise Elaine Chao, who is Trump's pick for Transportation Secretary. Chao served as Labor Secretary from 2001-2009 in the administration of George W. Bush.
"I'll just say one thing, sort of parenthetically: Elaine Chao, as Secretary of Transportation, I think is a great choice," Ford said. "I know her well. I knew her in her prior iterations, both in transportation and also labor, and she's someone I'm very much looking forward to working with."