Jimmy Fallon Basically Gave Trump Another Head Rub at the Golden Globes
The 'Tonight Show' host went easy on the president-elect, again.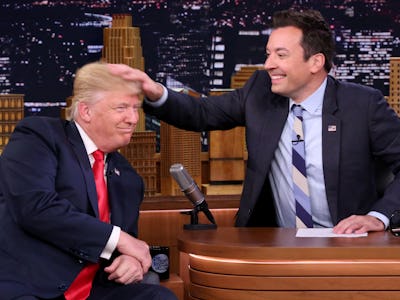 Jimmy Fallon caught a lot of flack for going easy on Donald Trump during an interview back in September. Instead of grilling the then-Republican nominee for president on his many sexist and racist statements (among other things), he threw some softball questions and played with Trump's infamous hair. As the host of Sunday night's Golden Globes, Fallon was given a second chance to take a swing at Trump, who is now the president-elect. Instead, Fallon followed the tousling by barely touching a hair on Trump's head.
After some brief technical difficulties — Fallon's teleprompter went down and had to be replaced — he opened with the mildest of jokes, calling the Globes "One of the few places left where America still honors the popular vote." Trump, of course, lost the popular vote by nearly three million to Democratic nominee Hillary Clinton, but won the presidency by securing the votes of the more arcane electoral college. That has stuck in Trump's craw and led to calls for changes to the presidential electoral system. But here's the irony: The Golden Globes are voted on by the Hollywood Foreign Press Association, a group of mostly obscure journalists who make a lot of odd decisions (like giving Aaron Taylor Johnson Best Supporting Actor over Moonlight star Mahershala Ali).
Later in the monologue, Fallon made a quick Game of Thrones joke that nodded to Trump's coming reign.
"A lot of people were wondering what it'd be like if King Joffrey had lived," Fallon said. "Well, in 12 days we're going to find out."
Comparing Trump with an angry boy-king on a TV show isn't exactly nice, but he didn't even call him out by name.
The one name he did mention: Trump supporter Vladimir Putin, in a joke that suggested the Russian president had a hand in the Globe ballot counting. It was a weak nod to the Russian hacking of American democracy.
There is no requirement for a celebrity to bring politics into an awards show, but there's a rich history of exactly that; look no further to the 2003 Oscars, during which nearly all of Hollywood spoke out against the Iraq War. Instead, Fallon made a few cracks, smiled, and moved on.