The Red-Band 'Death Race 2050' Trailer Is Hilariously Obscene
Think of it like a low budget and way more violent 'Mad Max.'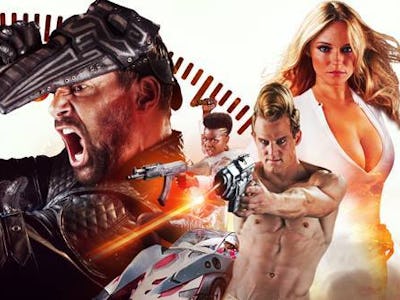 facebook.com/RogerCorman
Forget big budget blockbusters giving you the escapism you need, why not try a hefty helping of low-budget schlock? B-movie producer icon Roger Corman has returned with a kinda sequel, kinda reboot of his cult classic political satire Death Race 2000 with the all-new Death Race 2050.
Corman's updated Death Race — directed by G.J. Echternkamp — takes place in a dystopian future where the United States is no more, replaced by the United Corporations of America that's controlled by an omnipresent villain calling himself the Chairman (Malcolm McDowell), who oversees a gladiatorial street race every year as a way to satiate the hungry masses. Does it have a real plot beyond that? Nah, who cares about all that serious stuff. Save that for Mad Max: Fury Road. Death Race 2050 looks like it's a gloriously campy and absurd bit of perfectly timed ultraviolence best enjoyed as inebriated as possible, in the comfort of your own home, of course.
The original got a spiffy big budget 2008 remake of its own starring Jason Statham as the lead driver, nicknamed Frankenstein, who drives for maximum mayhem, but in Corman's new version, Arrow actor Manu Bennett gets behind the wheel.
See if you can sit through the whole NSFW thing below:
The vehicular ridiculousness is set to hit home video on Blu-ray and VOD on January 17.