The 'Death Race 2050' Trailer Is Campy, Explosive, and Glorious
50 points for the senior package!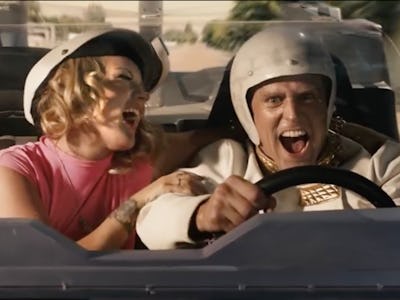 Universal Pictures
Frankenstein is back, baby, and there's still a big prize for hitting old ladies in the Death Race. Roger Corman is taking another stab at the iconic Death Race 2000 universe with Death Race 2050, a reboot to the original 1975 film that introduced moviegoers to a world obsessed with a cross-country road race that gave prizes for wanton violence.
Death Race 2000 was a kind of campy, lighthearted Mad Max about a renegade driver named Frankenstein's quest to throw off the shackles of servitude by getting behind the wheel of a souped up death-machine. This time, Manu Bennett (Arrow, Spartacus: Blood and Sand) is in the driver's seat. Subtlety isn't really one of Bennett's strengths, which makes him a perfect Frankenstein — there's nothing nuanced about the need for speed and the desire to blow shit up, which the new trailer for the film has in spades.
Death Race 2050 takes place in a dystopian future where America is controlled by an omnipresent conglomerate of corporations ruled by "The Chairman," who sponsors the gladiatorial street race every year as a way to please the masses, who are brainwashed by violent Virtual Reality (think Fury Road meets Hunger Games).
The trailer looks like some intensely low-budget, campy, ultra-violent fun, which might be what the franchise needs after Jason Statham's mid-2000s dour reboot set in a privatized prison system. Will it be good? Probably not, but we'll remind you that part of the original film's glory was in its blatant disregard for storytelling conventions and just basic decency (fuck it, let's have our hero just murder some people for fun).
Is this a movie you should take your children to? Absolutely not. Is it something you should rent on DVD, crack open a bottom shelf bottle of liquor, and cheer your way through with a room full of buddies? Absolutely. Just please, don't get behind the wheel afterward.