'Deadpool' Co-Creator Says the Merc Would Fuck His Oscar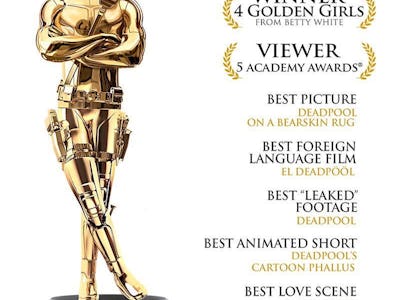 Twitter.com/VancityReynolds
Deadpool loves shoving stuff where it doesn't belong. Normally, that means his razor-sharp katana swords. But the character's co-creator Fabian Nicieza tweeted something Friday afternoon that's not only graphic, but involves the coveted Best Picture Oscar, which Deadpool isn't so far off from claiming at this year's Academy Awards.
Responding to a tweet from some jerkwad who argued that Deadpool deserves a best picture nomination, Nicieza responded: "I'd just be worried about what Deadpool would do with the Oscar… that thing is not shaped in a way that would allow him to resist…"
And with one tweet, Nicieza proves where Deadpool's vulgar mouth comes from. Because of course Deadpool would get hot and heavy with a chiseled piece of metal. Dude gets off on gun smoke, too.
Momentum for Deadpool, the R-rated Marvel blockbuster from Tim Miller is building as the 89th Academy Awards approaches. While it looks like a joke — like everything else from 2016 — Deadpool has actually racked up several prestigious nominations. Currently, Deadpool is up for a Golden Globe for Best Picture (Comedy or Musical), Best Action Movie by Critic's Choice, and Best Adapted Screenplay by the Writers Guild. Lead actor Ryan Reynolds is also a Golden Globe contender for best actor, which means Deadpool might actually get a shiny award all to himself. And yes, this is all happening.
See Nicieza's tweet below.
Will Deadpool disrupt the Oscars? It's still unlikely, especially up against popular and arguably more deserving speculated frontrunners like La La Land, Moonlight, and Arrival. But 2016 has one big lesson in expecting the unexpected, so maybe Deadpool has a shot after all. And if it happens, Ryan Reynolds has a "ridiculous reaction video" prepared.