Donald Trump Gives Up on the Bedroom Hacker Story
Says Russia and Chinese "consistently trying to break through."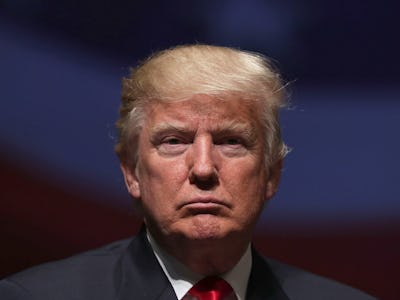 Getty Images / Alex Wong
After a meeting on Friday with intelligence community leaders on Russian cyberattacks during the 2016 election, Donald Trump, for the first time, admitted that other countries, including Russia, have tried to hack into U.S. agencies.
However, the president-elect said in a statement afterward that he still doesn't believe the hacking had any effect on the election's outcome, despite evidence presented to him by U.S. intelligence leaders.
"While Russia, China, other countries, outside groups and people are consistently trying to break through the cyber infrastructure of our governmental institutions, businesses and organizations including the Democrat National Committee, there was absolutely no effect on the outcome of the election including the fact that there was no tampering whatsoever with voting machines," Trump said in a statement released after the meeting.
Previously, Trump deflected reports of state-sponsored hackers, offering strange, antiquated ideas of hacking being done by overweight people in their bedroom.
"I don't think anybody knows it was Russia that broke into the DNC," he said during a presidential debate on September 26. "It could be Russia, it could also be China, it could also be somebody who could be sitting on their bed that weighs 400 pounds."
This report (read the full thing below) proves that yes, Trump's assertion that hacking was untraceable, was baseless.
The scenario, widely believed to have occurred in 2016, is that state-sponsored Russian operatives hacked into the Democratic National Committee's email server, which included emails to and from John Podesta, a top aide to Bill and Hillary Clinton. The Russian hackers then sent the emails to WikiLeaks, the group founded by Julian Assange in 2006, specifically to publish large amounts of classified data. Wikileaks systematically released those emails throughout the election, creating a steady stream of doubt about Hillary Clinton, from which Trump — who has long been highly complimentary of Russian President Vladimir Putin — benefited to the point of getting elected.
Also, according to intelligence officials, Russia's cyberattacks had psychological consequences by spreading misinformation, such as fake news.
"Russian actors have seeded falsified information into social media and news feeds and websites in order to sow doubt and confusion, erode faith in democratic institutions and attempt to weaken Western governments by portraying them as inherently corrupt and dysfunctional," Director of National Intelligence James Clapper, Undersecretary of Defense for Intelligence Marcel Lettre, and National Security Agency Director Michael S. Rogers said in a joint statement.
Furthermore, Trump said on Friday that Russian operatives tried hacking the Republican National Committee servers but were unsuccessful. However, that statement is false, based on evidence found by intelligence agencies. Intelligence found that the Russians actually were successful in hacking the Republican National Committee's computer systems, but they did not release the information they found.
"We assess that only Russia's senior-most officials could have authorized the recent election-focused data thefts and disclosures, based on the scope and sensitivity of the targets," the statement from intelligence officials for the Armed Services Committee said.
Trump said he had "tremendous respect for the work and service done by the men and women of this community to our great nation," but he did not endorse the intelligence officials' conclusion on the hacks. His undermining of U.S. intelligence has led to criticism from both parties.
In response to the cyberattacks, Trump said he would appoint a team to take action within 90 days of taking office.
Here's the full report, released on Friday by intelligence officials, and first reported by BuzzFeed: