The 'Hidden Figures' of Science Fiction's History
Contributions from people of color to the genre of the future.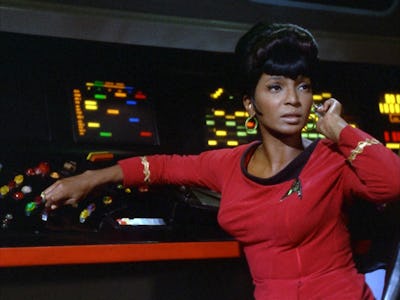 The new historical film Hidden Figures explores the largely untold efforts of three mathematicians, and women of color, to assist NASA in the 1960s. Based on the nonfiction book of the same name by Margot Lee Shetterly, the film elucidates the essential contributions by Katherine Johnson, Dorothy Vaughan, and Mary Jackson. The real science of space travel wouldn't have been possible without the help of these brave women. And there are equivalents in science fiction: people of color who shaped the genre of the future, but are sometimes overlooked by history.
In terms of politically progressive ideas, science fiction eventually became an essential place for racial equality to make strides in imaginative ways, particularly in the '60s. Here are four people of color who contributed to science fiction significantly, and like the women of Hidden Figures, were often threatened with having their names and cultural identities erased from history.
Samuel "Chip" Delany
One of the most influential and revolutionary voices in science fiction history is without a doubt Samuel Delany. Starting in 1962, Delany's stories and novels elevated the expectations readers and critics had of science fiction as a whole. In a sense, if you ever find yourself in an argument about when sci-fi started to become more "literary," the publication of Delanys novel Babel-17 is a good answer. Focusing on the idea of language itself being weaponized, Delany was not only an out-of-the-box science fiction writer, but a kind of political futurist. In a sense, Delany experienced the social "othering" by belonging to three minorities at once: black, gay, and a science fiction writer. In his blistering essay "Letter to a Critic," Delany destroys snobby assertions about his genre of choice while creating an open-minded credo about the field of science fiction that is unrivaled. "It's a landscape I feel ambiguous before," he writes, "Much in it, even as I dislike, stimulates me. Much in it that is comfortable is also destructive. And it's a landscape of change." The world is lucky that Samuel R. Delany is still around, writing to this day.
Octavia Butler
Though Octavia Butler's writing didn't start getting published until 1971, her politics certainly came from 1960s activism. Most famous for her time travel novel Kindred, Butler's stories and writing are frequently focused on identity and the experiences of African Americans in the United States. Her brilliant novel Dawn tells of a race of alien genetic engineers who threaten to remove humanity's cultural identity by essentially making us all into space aliens, too. The said irony is that though these novels featured people of color as protagonists, and were about the preservation of cultural heritage, several of the covers of the books were whitewashed to depict white women, instead of black women.
Though Butler sadly passed away in 2006, her 1998 novel, Parable of the Talents has recently risen to prominence. In it, Butler wrote of a dystopian future in which an evil political candidate actually runs on the campaign slogan "Make America Great Again."
Andreea Kindryd (Ande Richardson)
As producer Gene Coon's secretary during the original run of Star Trek, Ande (or Andreea) saw it all. Having worked with both Malcolm X and Dr. Martin Luther King, Andreea Kindryd was familiar with how progressive politics could be shaped though popular action. And yet, she didn't think Star Trek creator Gene Roddenberry was the super-progressive person many people believed him to be. In the Edward Gross and Mark Altman two-volume oral history of Star Trek — The Fifty-Year Mission — she says, "There were certain people who had my respect, and Gene Roddenberry didn't really get into that group." Instead, Kindryd asserts that the "other Gene," producer Gene Coon, was the real political visionary. "I had been working with Martin Luther King Jr. and Malcolm X, and working with Gene [Coon] was as normal as being with them," she said. Though uncredited, Andreea Kindryd assisted Gene Coon with writing and rewriting numerous scripts of the original Star Trek.
Nichelle Nichols
Though her fame is far from being "hidden" from history, Nichelle Nichols is nevertheless an underrated contributor to the civil rights of people of color. No matter how many times she's praised, it isn't enough. For years, Nichols has recounted the moment when she almost left the original Star Trek, only to be cajoled into returning to the show by Martin Luther King himself. From President Obama to African-American astronaut Mae Jemison, the number of people that Nichols has inspired through her role as Lt. Uhura on the original Star Trek are incalculable. "Science is not a boy's game, it's not a girl's game," she said in 2014. "It's everyone's game. It's about where we are and where we're going. Space travel benefits us here on Earth. And we ain't stopped yet. There's more exploration to come."
Hidden Figures is out in wide release now. Star Trek is streaming on Netflix and Hulu. The books of Samuel R. Delany and Octavia Butler are on the shelves of good bookstores and libraries everywhere.