Normies Evade Superhero Friendly Fire in First 'Powerless' Trailer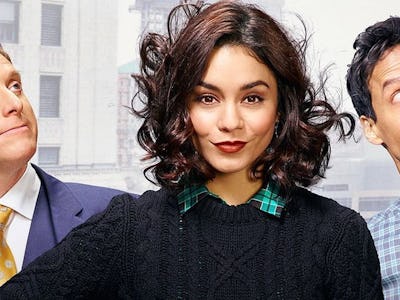 Blastr
The first official trailer for NBC's comedy from the DC Universe, Powerless, has been released — and it shows how the main characters will bumble and bungle trying to prevent some of the collateral damage that the flying dudes in tights inflict on the city.
The spot opens on a super-duel in the city with a scarlet-clad female (with a much too long scarf) hero — a DC comics D-lister called Crimson Fox — avoiding fireballs tossed by a cloaked, masked menace who bellows, "Feel the fire!" Their fight sends a train crashing down on a road, crushing some poor guy's car in the process.
It's a lively intro for the show's star, Vanessa Hudgens, who plays Emily Locke, the Director of Research & Development for Wayne Security — and she can be seen cradling a book called Wayne or Lose, no doubt a bestselling tome clearly about strategic success at business and life.
The trailer goes on to feature a lab where we "meet the team that make the product that save us from superheroes" — it's mostly bad ideas yielding bad results for comedic effect. To her credit, Emily Locke remains a font of well-meaning positivity.
The whole vibe is starting to feel less akin to The Office or Parks and Recreation as previously expected, and closer to something like Better Off Ted with its meta commentary, wit, and satirical aims, as opposed to a more straightforward mockumentary style. Expect a lot of name drops for A-list heroes like Wonder Woman and the Green Lantern, but even more appearances from the D-listers like Crimson Fox and whoever that Iron-Man-Doctor-Doom-Flamethrower dude is.
NBC's Powerless debuts February 2 at 8:30 p.m. Eastern.