13 Things Bernie Sanders Could Have Presented Instead of a Trump Tweet
There are a few other important points the Vermont senator could have made.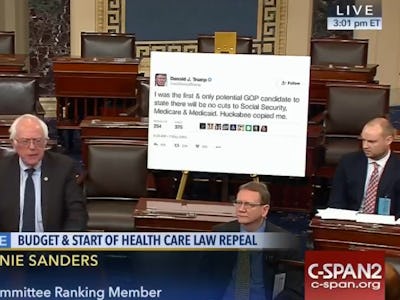 C-SPAN
On Wednesday, Senator Bernie Sanders (D-VT) brought a large poster displaying a tweet from President-elect Donald Trump to the Senate floor. Sanders was hoping to keep Trump accountable for past promises during the debate over healthcare. In the tweet, Trump points out that he is "the first and only potential GOP candidate to state there will be no cuts to Social Security, Medicare & Medicaid."
The giant print-out caught the attention of the internet, with lots of people loving the shadiness of the presentation. Inspired by the ridiculousness of the situation, the internet had a field day whipping up memes and offering a slew of other tweets and things Sanders could have had propped up behind him.
It's not uncommon for Congresspeople to bring charts and diagrams to the floor of Congress. So perhaps one of the internet's suggestions may find its way to the Senate floor sometime soon.
For those hoping to have Sanders stand in front of one of their own tweets, Roland Crosby created a website where people can insert any tweet in place of Trump's. For the time being, here's the best of what the internet had to offer:
13. Panera Bread has yet to respond
12. Not sure how Mrs. Sanders will feel about this
11. Clearly just as important as Medicare
10. He's been saying it since the primaries
9. Congress must act quickly and decisively
8. This one is deeply personal
7. In case the senator from Kentucky forgot the dress code
6. Politics have been getting wild
5. Is it too soon? It's definitely too soon
4. Where's Luke when you need him?
3. If you look closely, you can see how awkward Speaker Ryan feels
2. Highlighting O'Malley's loss in the primaries
1. Kanye's concerns are the nation's concerns