How to Follow the Senate's Hearing on Russian Election Hacking Today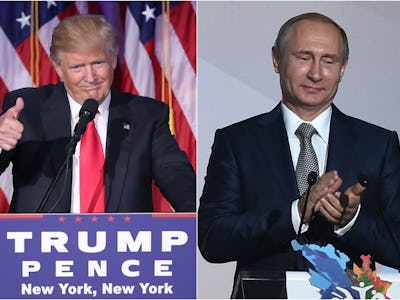 Getty Images
On Thursday, the U.S. Senate will gather to discuss one of the most controversial issues surrounding last year's election of Donald Trump to the presidency: the role of the Russian government in steering the election results. The Senate Armed Services Committee hearing will officially cover foreign cyber threats, but figures like the Director of National Intelligence James Clapper and NSA director Michael Rogers are among those expected to explain how intelligence agencies decided that Russia was to blame for leaks that impacted Hillary Clinton's campaign.
The Senate Foreign Relations Committee is also expected to meet behind closed doors to discuss the same issue. Members of the Armed Services committee are expected to speak to reporters at 9 a.m. Eastern following a briefing on cybersecurity, while the members of the Foreign Relations committee will speak to reporters about the cybersecurity hearing at 3 p.m. Eastern.
The Armed Services committee will be chaired by Senator John McCain, one of the most vocal proponents of the belief that Russia was behind election hacks. McCain has described the hacks as an "act of war."
So what happened? The hearing is expected to shed some light, but previous reports have helped explain the situation. In early December, the Washington Post reported that the CIA discovered Russia was trying to get Trump elected. This was done through a series of leaks that exposed the Democratic National Committee's inner workings and revealed the secret emails of John Podesta. The U.S. intelligence agencies later issued a joint statement confirming that they believe Russia was behind a cyberattack.
Trump dismissed the allegations, and back in July he had even called for Russia to hack Clinton's emails on the campaign trail. There was speculation that these reports may sway the electoral college to block Trump's election as president, but that ultimately came to nothing.
The president-elect has come under fire for his support of Julian Assange, whose Wikileaks website leaked the Podesta emails.
"You seem to have two choices now," Senator Lindsey Graham told reporters. "Some guy living in an embassy, on the run from the law for rape, who has a history of undermining American democracy and releasing classified information to put our troops at risk. Or the 17 intelligence agencies sworn to defend us. I'm going with them."
Senators from both parties have called for a bipartisan investigation into the hacks, but Senate Majority Leader Mitch McConnell has described such a committee as unnecessary, claiming that the Intelligence committee is more than capable of conducting an investigation into Russia's involvement.