4 Period Dramas That Will Make 2017 Sexy and Strange
From Jason Momoa's 'Frontier' to Tom Hardy's 'Taboo,' this isn't your mother's historical television anymore.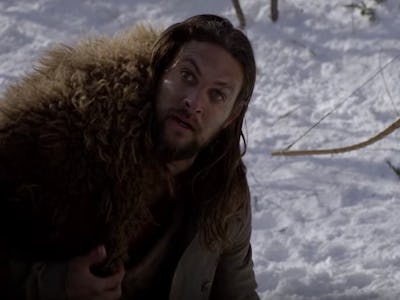 Discovery Canada 
A scarred, top hat-wearing Tom Hardy hits on his half-sister before threatening the High Sparrow from Game of Thrones. This might sound like the opening salvo to internet fan fiction, but it's from an upcoming period drama series from FX.
Traditionally, the term "period piece" evokes an immediate air of refinement. They feature manor homes and tea-drinking with the occasional murder (Downton Abbey; Miss Fisher's Murder Mysteries) or they're earthy dramas like Outlander that devote entire episodes to collecting rent in the 1700s. In other words, shows your mom watches. They're occasionally allowed to be pulpy and batshit insane like Penny Dreadful, but that was a rare aberration — until now.
2017 brings with it a slew of new period dramas that are stranger and sexier than your typical faire. Here are a handful to look out for.
1. Taboo
Taboo is the aforementioned Tom Hardy drama. It's set in the 1800s against the backdrop of shipping and the East India Company. In addition to Eastern Promises's Steven Knight, it's co-created by Tom Hardy and his dad, which is really all you need to know. Tom Hardy prowls around like a combination of a 19th century bane and Eva Green's character from Penny Dreadful. He comes cloaked in an aura of mystery — quite literally, as he first appears hooded like a grim reaper. His fellow characters constantly refer to him as "mad" or "savage," and he shouts at ghostly apparitions. And that's just the first ten minutes. This miniseries is exactly as delightfully bonkers as you'd hope.
Premiere date: January 10 on FX
2. Frontier
Frontier is essentially The Revenant: the TV show starring Jason Momoa, and fewer bear scenes with better pacing. This show focuses on the fur trade in 1700s Canada and the clashes between Native Americans and white settlers; between outlaws and businessmen. It's full of brutal action and has already been renewed for a second season.
Premiere date: January 20 on Netflix
3. Harlots
Hulu has been stepping up its game lately, between the strange and uncanny The Path, and the forthcoming adaptation of Margaret Atwood's The Handmaid's Tale. Less buzzed-about but equally intriguing is the upcoming Harlots. While many period dramas feature prostitutes and brothels as side scenery, they take front and center stage here. It stars Fantastic Beasts and Where to Find Them's Samantha Morton and Downton Abbey's Jessica Brown Findlay. One of the show's producers said in a statement, "In 1760s London, there were brothels on every corner run by women who were both enterprising and tenacious. History has largely ignored them, but their stories are in turn outrageous, brutal, humorous, and real." Sign us up.
Premiere date: March 29 on Hulu.
4. The Young Pope
Okay, so this is more along the lines of an alternate history than a true period-piece — but don't even pretend it's not your most anticipated show of the year.
Premiere date: January 15 on HBO.
2017 is going to be an uncertain year all over the world, as xenophobia takes center stage. But in the entertainment world, and particularly period piece television, it will be fresh, innovative, sexy, weird, and a hell of a lot of fun.