The 4 Mind-Blowing Inventions Coming in 2017
Take the Hyperloop to get in your self-driving Tesla.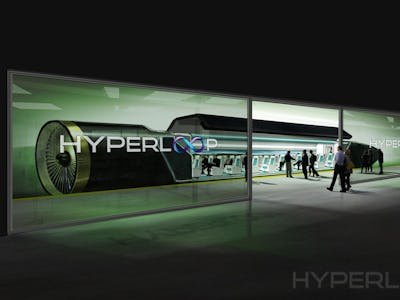 Hyperloop One
Nobody can say for sure what 2017 holds, but one thing's for sure: the steady march of technological progress will continue, blowing our minds with new developments we could have never dreamed possible. We don't know what's coming for sure, but based on media coverage, public-facing statements, and live demonstrations, we have an inkling. Here's four of the most amazing inventions set to revolutionize the world in 2017.
Actual Wireless Smartphone Charging
Battery anxiety, we all have it. The constant fear that your smartphone is about to run out of juice, just when you need it most, is for some reason incredibly stressful. Whole subreddits are dedicated to screenshots where the phone is just about to power down.
All of this will come to an end soon. Several companies are currently working on fully wireless charging, where power is transferred to the phone much like wifi or Bluetooth. Ossia, one company working on the tech, has already released a working wireless charging kit for manufacturers. The first phone using Ossia's kit are expected by the end of next year.
Elsewhere, rumors abound that Apple's next iPhone will use wireless charging. Plugging in your phone every night? Who needs that?
RealDoll Sex Dolls
Sex dolls are currently on the market, but researchers are working on more realistic models that react more responsively to touch. Abyss Creations, the company behind RealDoll, wants to offer talking robots with warm, functional genitalia by next year.
It's the start of a sexual revolution that is leaving critics divided: where some see the bots as opening up new possibilities for people to explore their sexuality, others fear a growing attachment to Silicon Valley taking over user emotions.
As robots grow more advanced, using artificial intelligence to act more as companions, companies will gradually seek to create more reactive sex dolls closer to the real experience. One futurologist believes that, by 2050, sex robots will be everywhere. 2017 is just the beginning.
Self-Driving Teslas
By the end of 2017, Elon Musk plans to roll out a software update to Teslas on the Hardware 2 platform. Using a combination of ultrasonic sonar and cameras, this new software will allow a Tesla to drive itself across the United States to a level 5 autonomy.
"Our goal is — I feel pretty good about this goal — is that we'll be able to do a demonstration drive of full autonomy, all the way from L.A. to New York — so, basically, from a home in L.A. to, let's say, dropping you off in Times Square, in New York, then having the car go and park itself by the end of next year — without the need for a single touch, including the charging," Musk said when the feature was announced the news in October.
Self-driving cars are something we've all heard about, but most people have never seen one in the flesh. The prospect of such a high-profile car maker enabling the feature on its recent cars is a pretty incredible prospect. We may look back on the release of Tesla autonomy next year as the tipping point, where self-driving cars suddenly entered the mainstream.
Hyperloop One
Hyperloop, the vacuum-powered train line created by Elon Musk, may get a big boost next year. Hyperloop One, a company founded to pursue the idea, plans to unveil a test track next year. It'll be the first step towards a revolution in transportation.
"Everyone is moving full steam ahead and we're going to make history in the beginning of 2017," Hyperloop One co-founder Shervin Pishevar told CNBC.
Beyond the north Las Vegas test track, Hyperloop One has big goals in mind. If all goes to plan, it wants to build a 50-kilometer track as the first phase of a network that will connect Sweden and Finland by 2028. When to 500 kilometer line is complete, the trip between the two countries would take just 30 minutes, and it's being worked on in collaboration with the city of Salo at a cost of around €19 billion.
Journeys measured in hours will suddenly take around a few minutes. Much like the wireless charger, the sex doll, and the self-driving car, we may look back on 2017 as the year when these inventions revolutionized the world we live in. Bring on the new year.
Update 1/2: An earlier version of this story stated that Hyperloop One wants to build a 50 kilometer line that will connect Sweden and Finland by 2028. The article has since been amended to clarify that the 50 kilometer track is the first phase of the project.