17 Most Exciting U.S. Cities to Move to in 2017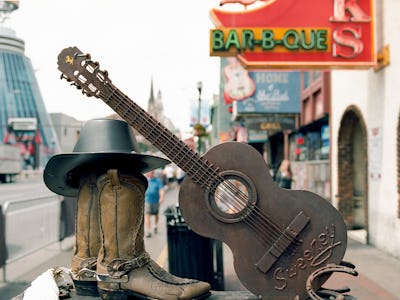 Flickr / mr-numb
The year 2016 has been a hell of a ride. We lost many celebrities, inched closer to a climate disaster, and dealt with so many other problems that the best thing we can say about 2016 is that it's going to end. There's no better way to celebrate the closing of this shitty chapter in our collective lives — and forget it ever happened in the first place — than to find somewhere new to live in 2017.
But where? The United States is a big country filled with so many towns and cities that it can be hard to decide where to move. Inverse looked at the following areas to see which cities might prove interesting next year: population, rent, walkability, public transportation, bike friendliness, renewable energy plans, internet speed, park quality, and support for autonomous cars.
Some people might value something, like the quality of a city's food or the liveliness of its nightlife, that wasn't mentioned in that list. Yet most people looking to have a relatively stress-free 2017 would be well served by at least considering a move to one of the cities on this list.
17. San Francisco, California
San Francisco should be higher on this list. It's among the best cities for walking around, getting a decent internet connection, or biking, among other things. But a combination of Silicon Valley money-throwing and the city's reluctance to build new housing makes it the most expensive place to live in the United States even if you're able to find an apartment someone's willing to rent out. If you can afford it, great, but San Francisco is likely out of many people's reach.
16. New York, New York
The same can be said for New York, albeit on a smaller scale. Yet the city is unparalleled when it comes to public transportation, especially with plans to make its subway more futuristic, and it also offers conveniences that can be hard to find elsewhere. Ride-hailing services, food delivery, and the ability to get anywhere without owning a car make New York the city of ease.
15. Boston, Massachusetts
Boston is also walkable and has some of the best parks in the country. (Along with the third-highest rent after, you guessed it, San Francisco and New York.) It also has the benefit of housing the Massachusetts Institute of Technology and, soon, a fleet of autonomous cars that will learn how to handle the city's awful drivers. If you're into futuristic tech, Boston could be the place for you.
14. Dallas, Texas
Everyone wants to move to Austin, Texas. The city is a liberal bastion in a mostly conservative state, it's cheaper than cities like San Francisco, and it's home to some of the best music festivals in the country. But it's also getting more expensive, and everywhere you look online Austin-ites are complaining about newcomers. Dallas is more welcoming and is quickly establishing itself as a viable alternative for anyone looking to escape America's more frigid locales.
13. Philadelphia, Pennsylvania
Philadelphia is happening. Its public transport system is widely used, probably because it's one of the most populous cities in the United States, and it's also highly walkable. Another plus: It doesn't appear on the list of cities with the highest rents, so you can afford to move there without selling your soul. Just prepare yourself for countless It's Always Sunny in Philadelphia jokes.
12. Jersey City, New Jersey
Jersey City is a consolation prize. If you can't afford to live in New York but still want access to that city's perks — and are willing to lie and tell everyone you're "basically in the city" when they ask where you live — Jersey City is a safe bet.
11. Chicago, Illinois
Chicago is one of the easiest cities to get around. It's the number one most bike friendly city in the United States, it's one of the most walkable, and it has strong public transportation. Plus the Cubs just won the world series for the first time in over a century, so everyone's pretty easygoing there at the moment.
10. Renton, Washington
Sometimes you don't want to worry about feeling like another human sardine packed into a tin-can metropolis. That's where Renton, Washington comes in: It's the least populous city in the country with just over 100,000 residents. The city is also close to Seattle, which has its own spot on this list, but it's bound to be cheaper than Washington's largest city. Plus — as the city boasts on its website — you can pay utility bills online!
9. Portland, Oregon
Portland is more than just the hipster heartland. The city is bike friendly, has fast internet, and is home to some of the best parks in the country. It also isn't as densely populated or expensive as some of the other metropolises (metropoli?) that offer all of these perks.
8. Oakland, California
It's like San Francisco but cheaper, the arts scene is vibrant, and some of the best parts of the Bay Area are right within reach.
7. Los Angeles, California
Los Angeles is crowded and expensive. It's also home to the entertainment industry and some of the most innovative tech startups. Elon Musk's Tesla and SpaceX lead the pack, and if Musk has his way, tunnels will help to solve the city's all-too-well-known traffic problem.
6. Seattle, Washington
Everything I know about Seattle I learned from Grey's Anatomy. But it turns out the city has more to offer than just sexy doctors and ferry boats: It's also very walkable, has great parks, boasts good internet access, and has some good public transport. It's still on the list of the top ten most expensive cities in the country, but only just, so more people can take advantage of all those perks.
5. Chattanooga, Tennessee
You've probably heard of Chattanooga because of its high-speed internet access. That's the city's main draw, but it's also less populated than many of the other places on this list, and it's nowhere near as expensive either. Leaving big city problems behind to enjoy a place where A) it doesn't get too cold and B) you can binge Netflix without any delays is easy in this Tennessee wonderland.
4. Aspen, Colorado
Aspen was the third U.S. city to run entirely on renewable energy. With climate change threatening life on Earth, living somewhere that doesn't contribute to this disaster becomes more appealing. Plus, you know, legal pot doesn't hurt.
3. Grand Rapids, Michigan
Michigan is going all-in on autonomous cars. Grand Rapids has also committed to using only renewable energy sources within the next four years by reducing its energy consumption and building solar farms. So if you're worried about the environment and you want to experience self-driving vehicles before most other people, Grand Rapids is worth considering.
2. Washington, DC
The nation's capital is walkable, bike friendly, big on public transportation, and has some great parks. It's also cheaper than San Francisco, New York, Boston, and Jersey City. Perhaps the only downside is that you'd have to get used to living near President Donald Trump and all the protests he's likely to inspire within the city. Or maybe you're into protesting! Either way, Washington, DC is a well-rounded place to live.
1. Nashville, Tennessee
Nashville doesn't have the same claims to fame as these other cities. It has fast internet, relatively cheap rent, and was chosen by Bloomberg Philanthropies and the Aspen Institute to be one of five cities participating in a self-driving car initiative. But its real charm isn't so easily quantified. It's home to great music, fun nightlife, amazing food, and a more generally laid back atmosphere than many other big cities. There's no better place to forget (perhaps with the help of the many fine bourbons available seemingly everywhere) the shit-show of 2016.