Colorado Sold $1 Billion Worth of Legal Weed in Under a Year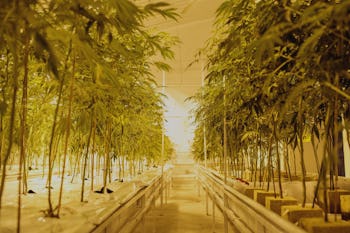 Getty Images / Drew Angerer
Despite all of the controversy surrounding marijuana's health benefits and the pros and cons of federally regulated cannabis, there's one unshakeable, undeniable fact about weed: It rakes in cash — fast. New data from Colorado's Department of Revenue shows that in 2016, the state sold over $1 billion worth of weed and related products in the first ten months of this year.
According to The Cannabist, which analyzed the tax data released by the state in October, recreational and medical marijuana shops in Colorado have sold $1.1 billion worth of weed and related products in 2016 altogether. It's a slight increase over the state's total sales in 2015, which amounted to $996,184,788.
Consider that the sale of marijuana for any purpose has only technically been legal in Colorado since January 1, 2014 (while it's been legal since 2012 to possess up to an ounce before then, it was only after that date that weed could be sold to anyone over 21 in specialty stores). That means that Colorado has brought in over $2 billion worth of weed-related revenue in less than two years — and 2016 isn't even over yet. On Monday, cannabis industry attorney Christian Sederberg told The Cannabist that he expects to see $1.3 billion in sales by the end of this year.
That weed is bringing in the green is, of course, no surprise: The immense profits that the cannabis industry can potentially bring in have not escaped investors like Peter Thiel, whose company The Founders Fund has spent $70 million backing Privateer Holdings, a cannabis-focused firm. According to a February analysis by ArcView Market Research, a leading marijuana investment and research firm, national legal cannabis sales amounted to $5.4 billion in 2015 and were expected to grow to $6.7 billion by the end of 2016.
Medical marijuana is now legal in 28 states and in Washington D.C., and recreational marijuana is legal in eight of those states. If sales in these states follow the same trends as those in Colorado, it's likely that national sales will far surpass those predicted by ArcView, which made its projections before the election ushered legalization into several new states.
Whether having concrete evidence of the massive profits cannabis can bring in will be enough to persuade indecisive politicians to say yes to legalization, however, remains to be seen. President-Elect Donald Trump, for one, has been vague on his stance on federally legalized marijuana; while it's thought he will elect the notoriously cannabis-hating Jeff Sessions to the position of Attorney General, he has also flip-flopped on his personal stance in the past — perhaps out of consideration for the industry's potential for profit.