Get to Know Javier Garcia, The New Hero of 'The Walking Dead'
The video game stars a guilt-tripped celebrity.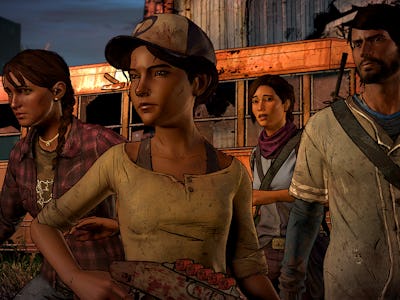 Telltale Games' latest The Walking Dead release explores, as the title suggests, A New Frontier. The chapter introduces a new character into the Walking Dead universe, and he might just be the franchise's first bonafide celebrity.
Javier Garcia, voiced by Jeff Schine, is the main playable protagonist for A New Frontier. He's never been featured in the comic books or in AMC's television series. While many of his thoughts and actions are determined by the player, as is typical with Telltale's video games, there are distinctive personality traits that set Javier apart from previous Walking Dead characters.
In the game, Javier has taken it upon himself to lead and protect a small group of his surviving family members: Kate, his sister-in-law, and his brother's two kids from a previous relationship. Given the fact that he did it for four years before the main events of the game, it shows he was doing a good job. He goes to every length to keep them safe, including going straight into a zombie horde to retrieve them after escaping a kidnapping. Javier is smart, comforting, and pragmatic, full of sarcastic quips but also levelheaded enough to know how to best handle a situation. But he's not just a heroic savior. Part of his drive to safeguard his family comes from the rampant guilt he feels after failing his family for years before the apocalypse started.
The game starts with Javier, or Javi for short, rushing home to see his father on his deathbed. Thanks to the standstill traffic from the zombie uprising, Javier is late, and his father dies before he can get there. But as we know, the dead don't stay gone in The Walking Dead. In fact, the first Walker Javier comes across is his dead father. Javier is the one who has to strike him down, crying and pleading his apologies as he fails to be there for his father a second time. It's really clear how much these events changed Javier, turning him into someone who would die to protect the people he loves. And when one of them does end up getting killed on his watch (I won't spoil who), Javier treats it like a personal failure against his entire family.
However, Javier isn't bringing all of the guilt on himself. Some of it comes directly from his brother, David, who — in the prologue — constantly reminded Javier how much he failed the family and needed to be there for them. Even though Javier assumes his brother is dead, David is still a constant presence in Javier's life. Javier repeatedly talks about him, asking his wife, Kate, how she feels about him after all these years. And even as a romance blossoms between the pair, four years after David's supposed death, his brother hasn't left his mind. And truth be told, it's not entirely fair to Javier, because it's obvious David wasn't a good guy, and some of his resentment came from jealousy at Javier's fame and success.
That's because Javier is one of The Walking Dead's first established in-world celebrity. Before the zombie apocalypse, Javier was a professional baseball player who was banned for life after placing bets on himself. One of the scenes in the first episode shows Javier getting recognized by the town's bartender, and saying how he still supported Javier after all these years. Much like Lee Everett from the first season, Javier's "crime" is definitely in a grey area, because he was betting on himself to win. Javier might not play baseball anymore, but he's still a baseball player at heart. Javier wears his jersey, and is an excellent melee fighter with a wicked swing.
Javier might not be the most iconic character in The Walking Dead, that honor goes to series-best Clementine, but he's an excellent addition to Telltale's ongoing story. He not only allows us to look at The Walking Dead through a fresh pair of eyes, but he also gives us a unique parallel to the themes of family that were present in the early parts of Telltale's video game series. In the first season, Lee learned that it's not the family you're both with, but the family you make. This time around, Javier is learning the true value of the family he had all along. And given what Clementine is going through this season of The Walking Dead, it's an especially heartbreaking lesson to learn.