Witness the Power Rangers Step Out of the Justice League's Shadow
Tom Taylor and Stephen Byrne explain how they'll elevate the Power Rangers into a league of their own.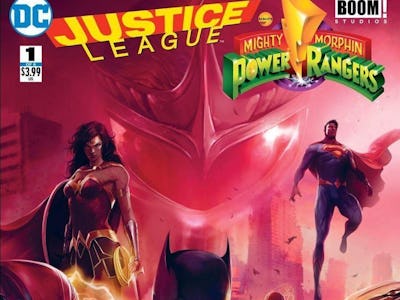 DC Comics
In the pantheon of pop culture's best superheroes, '90s relics the Power Rangers don't rank very high. Even after 25 years, the Japanese import lacks the prestige afforded to icons like Batman and Superman. But their most loyal fans believe Angel Grove's teens with attitude deserve a legacy, and veteran comics writer Tom Taylor is determined to give them one in his six-issue crossover Justice League/Power Rangers coming January 11 from DC and BOOM! Studios.
"I'm always motivated to show exactly why something is great," Taylor explains to Inverse in an email. "The Power Rangers are no exception. There will be a lot of very big moments for the Power Rangers [in the comic]. Moments of triumph and general awesomeness. Yes, they have to have to stand beside the Justice League and the League casts a big shadow. But Zords cast a bigger one."
In Justice League/Power Rangers, the teams cross paths when Zack, the Black Ranger, is flung into the DC Universe after the Power Rangers' HQ is breached by enemy forces. Often overshadowed by his more popular Red, Green, and Pink Ranger colleagues in the TV show, Tom Taylor chose Zack as a key character for exactly that reason. "Zack is a big part of the crossover because he's often off to the side. He shouldn't be underestimated."
All six original Power Rangers (with Tommy as the Green Ranger) are confirmed, along with a Justice League roster of Superman, Batman, Wonder Woman, the Flash (Barry Allen), Cyborg, and Green Lantern (John Stewart). Taylor also teased some big cameos: "Lots of fun dynamics will be explored, but some I can't spoil. There's one meeting involving Alpha 5 and a DC character who we haven't even named yet, which I think makes a lot of sense, but no one would see coming."
Known for his acclaimed run on DC's Injustice: Gods Among Us, various Star Wars comics, and his Netflix series The Deep, Tom Taylor signed on to Justice League/Power Rangers back in October. But the seemingly easy sell — two superhero teams meet and fight! — has been surprisingly difficult, which Taylor attributes to the huge ensemble cast. "We have six heroes on each team, along with supporting major villains. They're all such big characters, and you want every one of them to have their moment in the sun."
To solve this, Taylor adheres to a "show, don't tell" principal, which sounds simple in theory but has very complicated practicalities in the medium of comics. And for Justice League/Power Rangers, it's crucial, because it's including a mythos foreign to the majority of DC readers. "I hate exposition, so I try to inform organically," he says, which for the Power Rangers means tons of butt-kicking. "We can show you the powers of the Power Rangers by having them kick Batman's butt for a page."
Working with Taylor is artist Stephen Byrne (Serenity, Green Arrow), who wrote and drew his own Power Rangers comics in grade school. A longtime fan, Bryne lifts techniques from the TV show to let the Power Rangers be expressive, because unlike their Justice League counterparts, all six Rangers are obscured under helmets. "I try to use body language if there is an effective pose to convey mood or emotions," Byrne tells Inverse, which mirrors how stunt performers do "dialogue" in costume. "Sometimes the grand poses aren't appropriate, but Tom's writing is doing all the heavy lifting anyway."
"There are some contrasting darker moments," Bryne explains. "When the Rangers first get transported to another universe, I used darker colors to show danger." For the League, Byrne referenced Ed McGuiness's Superman/Batman, which was known for its balanced tone. "He did versions of the Justice League that were very fun and a little cartoon-ish, and though I don't think my work looks like his, I wanted to imitate that overall."
While kids are an obvious audience, the book's team says it goes a little dark, ensuring adults can enjoy reading it too. Its themes, according to Taylor, deal with "returning home with regret" and the "power in the seemingly powerless." In comparison to Kyle Higgins's bleaker Mighty Morphin Power Rangers comic, which was one of the best comics of 2016 and a book Taylor says he's a fan of, "There are big shocks and some nastiness, but we've leaned into that slightly innocent, wholesome, tone."
The Justice League is synonymous with superhero teams, preceding Marvel's Avengers by three years. In November, they'll come together on the big screen for the first time in Zack Snyder's Justice League — and so will the Power Rangers in their own movie in March. While the Rangers don't have the cultural sway of the more grizzled and revered League, they'll be well on their way after sharing the page with Wonder Woman. "I love all these characters," says Taylor. "This is a crossover which should be entertaining on every page. This story is big. It puts the 'mega' in Megazord."
Justice League/Power Rangers #1 will be released January 11.