John Wick Will Out-Assassin Deadshot in New Dynamite Comic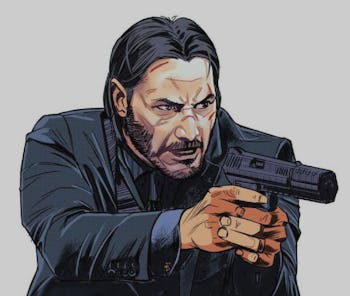 Entertainment Weekly, Dynamite
Yeah, he's back, and he's getting his own comic book. Keanu Reeves's sharp-dressed killer from John Wick will appear in a new comic book from Dynamite. The comic, which does not yet have an official title, will be released next year in 2017, the same year John Wick: Chapter 2 hits theaters in February.
"As the credits rolled, you were left wanting more, and it was obvious they had the makings of a franchise," said Dynamite CEO Nick Barrucci. "We were quick to pursue the opportunity to develop a comic book series, and are thrilled to have been granted the rights to tell all-new stories with the character!"
The comic will not be a direct sequel but it will explore the universe of John Wick. It helps that the 2014 action movie did a bang-up job creating a living, breathing universe of underground assassins that dares anyone to dig even deeper.
Dynamite is one of the more prominent independent comic book publishers in the market today. Many of its current books are based on pulp characters such as the Shadow, Green Hornet, Flash Gordon, Red Sonja, and Zorro. It also has the rights to film franchises like The Terminator, The Expendables, and James Bond, which is currently written by acclaimed author Warren Ellis.
While there is no cohesive "Dynamite Universe," it sure would be fun if Wick aimed his sights at a certain double-0 agent.
There is not yet an attached writer to the series, but Giovanni Valletta (Pathfinder) has worked out some concept sketches based on Keanu Reeves as John Wick.
John Wick: Chapter 2 will be released February 10, 2017.