The FAA's Issued 23,818 Drone Licenses Since August
That's more than 300 a day.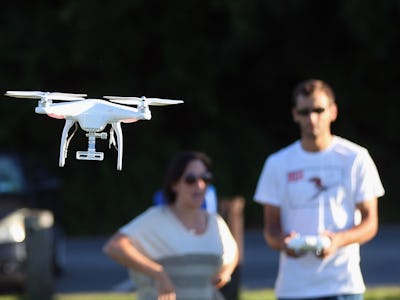 Getty Images / Bruce Bennett
The Federal Aviation Administration released new guidelines in August requiring commercial drone pilots to get licensed, and an agency spokesperson told Inverse that it had processed 23,818 applications as of December 16. That's a lot of drones — and it's just a fraction of the units taking to the skies.
The FAA doesn't make individuals get a license to fly drones. They have to register their systems if they weigh more than half a pound, but hobbyists aren't subject to the same rules as businesses, which means the 23,818 applications processed so far represent people using drones to assist with photography, farming, and other commercial interests.
And there's plenty of interest. Recode reported that the FAA processed 22,959 licenses as of December 9; this means 859 were between then and December 16. That's 171 licenses a day, which is roughly half of the 300 or so licenses previously issued each day, but that slump could probably be at least partly attributed to the fact that it's the holiday season.
Not that consumer drones will see a similar decline. If anything they're going to become more popular once holiday gifts are exchanged. Consumer Technology Association researchers said nine percent of shoppers plan to buy drones this year, which could lead to a 112 percent year-over-year increase over the 2015 holiday shopping season with 1.2 million units sold.
Adobe Digital Insights confirmed that drones are going to be huge this holiday: The agency said that DJI Phantom products were among the top grossing toys on Thanksgiving and Black Friday. Even if the sector didn't get a holiday bump, NPD said in May that drone sales grew 224 percent to $200 million between 2015 and 2016.
All of which means drones are more popular than ever, despite FAA regulations quashing hopes for unmanned aircraft delivery systems and restricting where people can fly their drones.
Those restrictions clearly haven't stopped many businesses from using drones, either, and the FAA is happy about that. "We're pleased so many people have applied," an agency spokesperson tells Inverse, adding that "those who have to take the knowledge test have an 88 percent passing rate." The spokesperson also said the agency doesn't plan to release a list of approved drone pilots.
Still, we know some of the ways drones are being used in the United States. Some are helping farmers, allowing police to respond to crashes, or using military technology to put on holiday light shows at the Walt Disney World Resort in Florida, among other things.
We also know how they aren't being used. Amazon recently tested its Prime Air drone delivery service, which promises to ship items in 30 minutes or less, in the United Kingdom because its regulators are more cooperative and willing to experiment than the FAA currently is.
Drones are going to fill the skies. At least we know that these 23,818 businesses have proven they can be trusted with their unmanned aircraft — it's the hobbyists you have to watch out for. Keep that in mind when you see the post-Christmas surge in consumer drones.