Hera Syndulla from 'Rebels' is Referenced in 'Rogue One'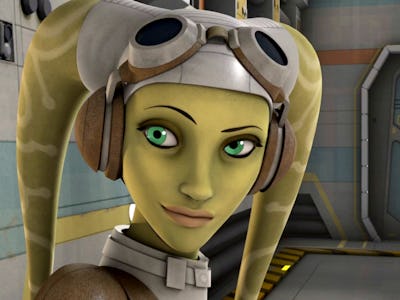 StarWarsAwakens
A familiar, famed Rebel leader was name-checked when Jyn Erso, Cassian Andor, and their ragtag crew bolted for their stolen cargo ship on Yavin. "General Syndulla" was paged at the Rebellion's Yavin base, most likely referring to none other than Star Wars Rebels's Hera Syndulla.
Hera acts as the leader of the Lothal group in the Rebels TV show. She and the gang fly in her VCX-100 light freighter, Ghost, acting as a rebel cell in line with the much larger Rebel Alliance against the tyranny of the Empire. The first season of Rebels takes place approximately five years before the events of Rogue One, which would have put Hera and the Lothal rebels on a pretty good path to being experienced enough to take on more intensive roles within the larger Alliance.
So, Hera being heralded as a general isn't unexpected. But the page to "General Syndulla" from Rogue One is so quick that it's difficult to pick up, even for the most knowledgable Star Wars fans. The sound bite is yet another example of Rogue One's deep-canon, wink-nudge moments that were so prominent within the film. And it goes to show that Syndulla will survive whatever befalls the Rebels team for the remaining seasons.
Rogue One: A Star Wars Story is now in theaters.