Saw Gerrera's Backstory to Be Fleshed-Out on 'Star Wars Rebels'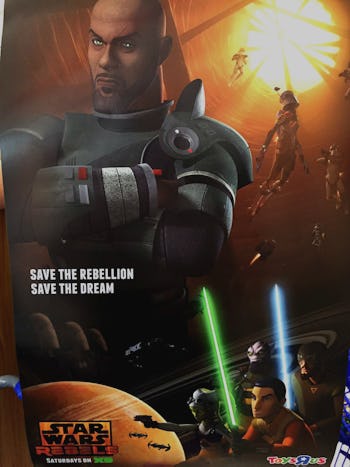 Twitter/RebelsReactions
Deadbeat adoptive dad extraordinaire Saw Gerrera will be making his way to the small screen again. The rebel extremist will be joining the cast of Star Wars Rebels for the second half of Season 3 to "save the Rebellion, save the dream."
This post contains some spoilers for Rogue One: A Star Wars Story.
Promotional posters for Season 3 of Rebels at Toys "R" Us stores revealed an older Saw than was featured in several episodes of Star Wars: The Clone Wars. Reports reveal that the upcoming season of Rebels will take place two years before the events of Rogue One: A Star Wars Story, prompting questions about what exactly happened to Saw in such a short period of time to change him so drastically.
Rogue One reveals Saw as a truly broken man. His legs are gone, he can't breathe on his own, he's paranoid and suspicious of even his oldest friends. He's a far cry from the Saw that was introduced to Star Wars fans in Clone Wars. That change seems drastic for a two-year period, but when you're the leader of a rebel insurgenc and trying to protect your home, drastic measures can often lead to drastic consequences. Clearly, Saw knows that better than anyone.
The appearance of Saw also raises questions about a Jyn Erso appearance in Rebels. Unfortunately, Rogue One reveals that Saw abandoned Jyn when she was a teenager, so her appearing at his side during Rebels — if it really does take place two years before Rogue One — would be inaccurate.
Learn more about Saw's backstory when Star Wars: Rebels returns January 7, 2017.