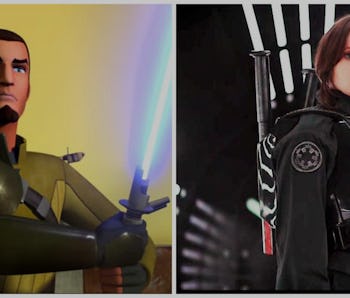 Entertainment
'Star Wars Rebels' Will Be Referenced in 'Rogue One'
Because the Disney XD cartoon show Star Wars Rebels is essentially about the beginnings of the Rebel Alliance, a connection to the Rebel-centric Rogue One seems pretty natural. But now, it's been confirmed that there are very specific shout-outs to Rebels definitely happening in Rogue One.
Mild spoilers and pure speculation for Rogue One follow.
Writing for EW, Anthony Breznican says, "Fans of the Disney XD animated series Star Wars: Rebels should keep their eyes wide open for a number of special surprises." While we can probably rule out an appearance from Darth Maul, Ezra Bridger, Kanan Jarrus, or anyone else with a lightsaber, other Rebels from Rebels could totally appear. Hera Syndulla, the captain the Ghost could show up, as good the adorable droid Chopper. The various starships of Rebels could also make an appearance: the Ghost itself, or various parts of Phoenix Squadron.
On the Imperial side of things, some likely Rogue One cameos like — Grand Moff Tarkin — already appear in Rebels anyway. But what about turncoat Imperial officer, Agent Kallus?
Because he has hardcore ties to the Empire and is now a sympathetic informant for the Rebellion, bringing in a live-action Kallus to Rogue One would be the sweetest and most unexpected continuity nod in the galaxy. Maybe Jyn and Cassian get their Death Star plan information from Kallus!
Rogue One opens this Friday, December 16.