4K Theatrical Restoration of 'Star Wars: A New Hope' Likely in 2017
'Rogue One' director confirms a new version of the classic film exists.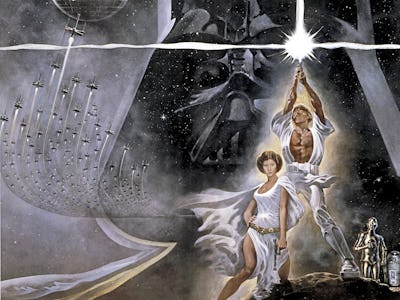 Lucasfilm
Next year, Star Wars turns 40, and if fans get their wish, the original film could return for a limited release on the big screen. Recent comments from Rogue One director Gareth Edwards have confirmed a 4K restoration of Star Wars Episode IV: A New Hope does in fact, exist. Now, the two questions are: Will it be shown in movie theaters next summer, and if so, which version?
In an interview with Little White Lies, Edwards revealed that Lucasfilm special effects guru, John Knoll, encouraged him to watch the new version of the classic movie at Skywalker ranch. "They've got a brand new 4K restoration print of A New Hope … it had literally just been finished," Edwards said. The existence of a new version of the film has already created a flurry among Star Wars fans. Since next summer is the 40th anniversary of the original release of Star Wars, could a lush and updated 4K version of the film find its way onto movie screens?
As of 2015, Disney removed the 20th Century Fox logo from the beginning of the digital download releases of every single Star Wars movie, except the original film. That's because 20th Century Fox still owns the distribution rights to A New Hope. And, Edwards's comments about the new 4K version of the movie did mention that he saw the 20th Century Fox logo at the very beginning of the film. So, if a theatrical release of the original Star Wars were to happen, it wouldn't just be Disney's decision, Fox would have to be in on it, too.
Notably, while there have been several remastered versions of Star Wars over the years, there has yet to be 4K restoration. The 2011 Blu-ray "Special Editions" remains the definitive and canonical version of the original three films, though it wasn't in 4K. If there was re-release of A New Hope, which version would it be? The most likely answer is that it would be some version of the Special Edition, which means Han wouldn't shoot first, Jabba the Hutt would show up early, and distracting CGI aliens would populate the space port of Mos Eisley. But what if the 4K restoration was the real original Star Wars? Would George Lucas even allow something like that to happen?
One thing is for sure: If a 4K restoration of Star Wars: A New Hope were to hit movie theaters again in 2017, selling movie tickets would be easy even if Han shoots second.