David Tennant's Scrooge McDuck Leads 'DuckTales' Reboot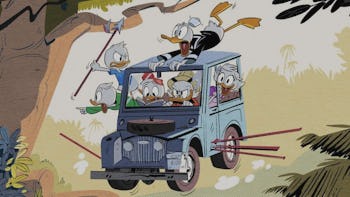 Disney XD/The Hollywood Reporter
Holy quack! The Disney duck flock is migrating back to the small screen after 26 years. Disney XD's DuckTales reboot finally announced its official cast on December 16, and the bill is stuffed full of big names and an actually Scottish Scrooge McDuck to boot.
David Tennant (best known for his roles in Doctor Who, Jessica Jones, and one of the Harry Potter films) has been cast as Scrooge McDuck, with Danny Pudi (Community), Ben Schwartz (Parks and Recreation), and Bobby Moynihan (SNL) taking the roles of the brothers Huey, Dewey, and Louie Duck. They will be joined by Beck Bennett as Launchpad McQuack, Toks Olagundoye as Mrs. Beakley, and Kate Micucci as Webby Vanderquack. All were introduced in a The Brady Bunch-esque sing-along to the original DuckTales theme song, which is appropriately adorable and smile-inducing.
The original DuckTales ran from 1987 to 1990, spawning DuckTales the Movie: Treasure of the Lost Lamp and teaching an entire generation that lovably greedy great-uncles will kind of let you get away with anything when your dad is off serving his country in the navy. In case anyone forgot, that was the premise of the original DuckTales: the well-known, belligerent Disney duck, Donald, was called to service in the navy and had to leave his three sons Huey, Dewey, and Louie with his great-uncle, Scrooge McDuck. Scrooge adopted the trio, and the mischievous mini-fowls wreaked havoc and waddled from one adventure to another alongside Uncle Scrooge.
This new cast of fine-feathered comedians and voice actors are sure to quack you up alongside beloved guest characters such as Donald Duck, Flintheart Glomgold, Gyro Gearloose, Duckworth, Gizmoduck, Magica DeSpell, Gladstone Gander, and Ma Beagle and the Beagle Boys. Executive Producer Matt Youngberg will be joined by Francisco Angones as story editor and co-producer. Former Gravity Falls location designer Sean Jimenez will take on the role of art director for this new Disney Television Animation project.
The new DuckTales is waddling to a small screen near you Summer 2017, 30 years after the start of the original series.