'Jessica Jones' Has a Secret Weapon in David Tennant
The former Doctor is taking a stab at being a piece of shit, which will be worth the Netflix subscription alone.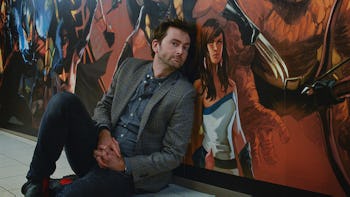 Marvel
Marvel is hoping to bowl a second strike in November when Jessica Jones premieres on Netflix. The bar is set high following the acclaimed Daredevil, but comic fans know that if Jessica Jones can't surpass the bar she'll just break it, yelling "Fuck" the whole time.
Opposing Krysten Ritter's ex-superhero-turned-P.I. is the Purple Man, played by David Tennant. And he might be the best thing about the whole series.
Armed with a wide smile and a tall frame, David Tennant has played good guys in TV and movies to the love and adoration of countless fans around the world. He's saved the world a hundred times as The Doctor, put murderers behind bars as DI Alec Hardy in Broadchurch, and taught kids to avoid smoking way back in the '80s. On top of that, he's just so much fun and charming. Who can hate the guy?
But in Jessica Jones he will be the Purple Man, a master manipulator and arguably the most vile being in the Marvel Universe. With the power to compel people to want to do what he asks, the Purple Man has committed everything from kidnapping and imprisonment to sexual assault. Loki may be evil, but he's playful. The Purple Man is playful, but it's exactly what makes him evil.
It's a tall order to make such morally abhorrent villains, who are so easy to hate, interesting. Luckily, David Tennant is pretty tall.
Armed with years on the Shakespearean stage and possessing a distinct voice and swagger, David Tennant could join Jon Bernthal, Vincent D'Onofrio, Robert Downey Jr., and Hayley Atwell in the ranks as one of the best casting choices throughout Marvel's TV and movie efforts.
We should already be excited for the series anyway, of course. Jessica Jones will be the second female-led series in the Marvel Cinematic Universe and everyone must be pretty tired of buff white dudes saving the day. Come November, Jessica Jones will treat us to a foul-mouthed P.I. and a skinny motherfucker in purple to get us binge-watching.