'Gravity Falls' Is Ending, So Catch Up Now
'The X-Files' for kids deserves a larger audience that can appreciate its quirks.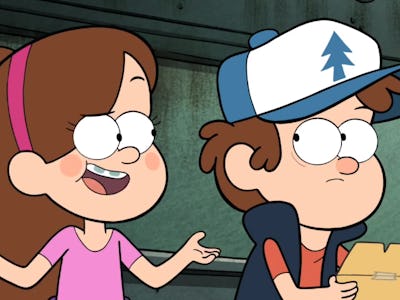 Gravity Falls, an animated adventure series for kids, began on the Disney Channel in 2012. The show's creator, Alex Hirsch, worked on The Marvelous Misadventures of Flapjack and Fish Hooks, which gave Rick and Morty co-creator Justin Roiland his first big break. Hirsch announced Gravity Falls is ending after two seasons, just before he was confirmed as a new showrunner over at Fox, so Gravity Falls has been his step toward making primetime, adult animation.
This February, Gravity Falls will conclude its second, and final, season with an hour-long special event. There are several reasons why you'll enjoy binging through the series before that happens.
The voice actors are tremendous
The cast of Gravity Falls features Kristen Schaal of Flight of the Conchords and The Last Man on Earth, Linda Cardellini of Regular Show and Freaks and Geeks, J.K. Simmons, Justin Roiland, and T.J. Miller. Each of these actors is known for unique performances in films and TV aimed at adults; casting a children's cartoons with actors recognizable to only adults was one of the show's first signals that it meant to transcend typical Disney programming. Also notable: Neil deGrasse Tyson voiced a cartoon pig as a guest star.
It's The X-Files, or Twin Peaks, for kids!
After only two seasons, Gravity Falls has already built an internal mythology that rivals the long-running intrigue of The X-Files. Alex Hirsch wanted to create a sprawling landscape of interconnected characters and themes from day one. He told The A.V. Club when the show began:
"I think the No. 1 lesson I learned from The Simpsons was just that animation could be as funny as live-action. That animation could be funnier than live-action. That animation didn't have to just be for kids. That it could be satirical and observational and grounded in a sense of character interaction."
Gravity Falls is satirical, and it works as a loving follow-up to The Simpsons in many ways. At its core, though, the show appreciates spookiness and promises often that things are not quite what they seem. That central idea has filled Gravity Falls with Easter eggs, opportunities for fan theories, and inside jokes that span seasons. Linking his show to The Simpsons again, Hirsch said, "We're going to cram this thing with references, with jokes, with little callbacks, and if you are obsessive enough, if you love it enough, it will reward your obsession."
Among many other hidden clues, Gravity Falls has illustrated cyphers with coded meanings throughout both seasons. Fans have worked together for years to deconstruct these images. Triangles play a big role in the show's aesthetic, and many characters (including the primary protagonists) are identical twins.
Someone will die in the series finale
It's long been rumored that the show would take a dark turn not typical of children's programming in its final episode, and the episode's official synopsis seems to confirm this theory.
"Ford discovers Bill's true motives and a final confrontation with Bill leads to the Pines family's ultimate fate and greatest sacrifice."
This is a huge move for animated television, especially aimed at children. The show has always valued honest emotion — both young protagonists have experienced intense crushes and familial love in the face of danger — and this final move feels organic, not forced.
Although it aired on the Disney Channel, Gravity Falls was constructed for fans of Arrested Development, spooky sci-fi programming like Black Mirror, and shows that combine light-hearted humor with darker themes, like Pushing Daisies. Now that it's coming to an end, the show deserves to reach its full audience.