Amazon's Animated 'Danger & Eggs' Is a Bizarre Delight for All Ages
We talk to the show's creator, Shadi Petosky.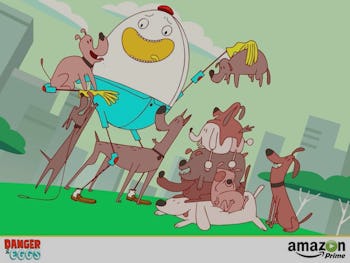 Among the new pilot season of Amazon originals, people are missing out on a slate of killer animated offerings. Of them, the clear standout is Danger & Eggs, a ridiculous fast-paced adventure focused on D.D. Danger — voiced by SNL's Aidy Bryant — a young girl who takes on dangerous stunts and her best friend, an anthropomorphic egg named Phillip who helps manage her safety. It's a wickedly funny show for all ages, featuring a pilot that spirals from a water slide dare into discovering an abandoned child's monster civilization — and more importantly! — the true meaning of friendship.
Watch the episode for free here.
We sat down with Shadi Petosky, the co-creator and writer of Danger & Eggs who also owns PUNY Entertainment, the animation studio behind the show.
Where'd the idea come from, and what do you want to do with this show?
When we were doing work on Yo Gabba Gabba and games we'd often have downtime so we started making short cartoons. My partner on this show Mike [Owens] pitched me a drawing of Phillip, the egg character, and I kind of a gave him an origin and EP Vincent Stall and I agreed to produce a short. We were working with Will Shepard a lot then, who worked at Soup 2 Nuts who made Dr. Katz and Home Movies. He was super into doing improv based animation so we found this great improv group in Minneapolis called Splendid Things. Eric did the voice of Phillip and Hannah and Michael improvised an adult short and we put it in festivals. Then over six years we developed it into a kid's show with a ton of characters. Work, pitch, work, pitch.
Some other favorite improvised shorts from that time are here if you'd like to see what we were building from these sessions.
I want to make a kids show that feels really real and unreal and a bit subversive. We kind of throw parents under the bus on this show for the sake of kids. It's a little bit about helicopter parenting, but also absentee parenting, and abandonment. There is a plenty of dealing with trauma. We want kids to know that parents can kind of mess up and it's not their responsibility. I hope we can make kids a little less afraid of the world, especially neurotypical kids. I want kids to know the difference between feelings and action. Let them know fears and fantasies are ok.
What's it like having Nerdist's Chris Hardwick as a new partner at PUNY, and how'd that come about?
It's great. This is the first project we've put out and he's been thrilled and supportive. He loves animation! He's been supportive for a long time actually. When I used to come to L.A. I'd meet with him and he'd be like "why are you doing this Minnesota marketing, we gotta get you doing entertainment stuff only." So when I was getting serious about being in L.A. we started talking about him buying up some marketing partner's shares and he went a little further and bought half the company.
What sets D&E apart from other animated programming, especially your new "competitors" on the Amazon lineup?
We're really not competing. I know that might sound like good sportsmanship but Amazon has no 6-11 animated comedies right now. There is plenty of space for a few. This Prime Pilot Season is like the world's largest data driven focus group for TV. If they think that the shows will find an audience, they'll pick them up. They need more than one. I don't have much more insight into the workings of Amazon that anyone reading this but it's pretty clear that they're now going to auteur stuff right? They're adapting a lot of books in kids and primetime. They brought in the brilliant Ted Hope, who we worked with on the film Super. They got their first Emmy for Tumble Leaf which is gorgeous. Gortimer Gibbons is incredible. Then there is Transparent which blew everyone away. For this round of pilot season it's all these independent studios Six Point Harness, Titmouse, Cartoon Saloon, Moonbot putting love into these shows. There are a lot of female creators. If this show doesn't get picked up, Amazon is my first choice for pitching my next one.
We'll succeed or fail and — to get back to your question — be set apart by point of view and craft because we'll really have a say in what real stories we want to tell and how we want things to look. This is so different than toy driven productions. There are so many amazing animated shows on right now that are auteur driven. Gravity Falls, Wander over Yonder, Star, Clarence, Adventure Time, Steven Universe, Regular Show, Harvey Beaks.
Those shows are all different from each other because their showrunners are so different and have a level of autonomy and respect from their networks. We hope to make Danger & Eggs a part of that class with our own style of funny, sweet, well designed, well executed.
How great is Aidy Bryant and how'd you get her involved?
Aidy's so great right? She's hilarious, cool, nice, and everyone wants to be her friend. I hugged her like two seconds after meeting her which is an LA thing to do but in hindsight I really hugged her. Like a long lost buddy. There isn't a great story behind her working with us, we asked her, sent her everything and she said yes. I'm weird and broken in that when I see an Amazon review or anything like "Aidy Bryant (SNL)" I'm like wait — this didn't unhappen? She's still in the cartoon?