Nancy's New Hairdo Means 'Stranger Things' Will Go Full-On '80s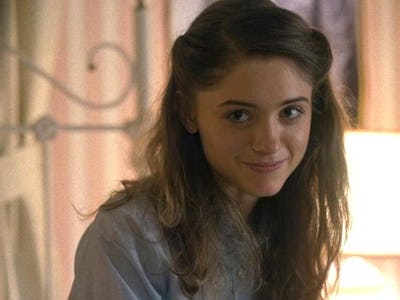 Netflix
A new hairdo might signal that the second season of Stranger Things is about to become even more nostalgic for the '80s than ever before.
As of now, the only definitive things known about the upcoming second season of the 1980s-set Stranger Things is that it'll feature a few new characters and take place a year after the events of the first season. But it seems like there are going to be some big changes over that year-long gap, starting in a surprising place: Nancy Wheeler's hairdo.
In an interview with Refinery 29, Stranger Things hairstylist Sarah Hindsgaul teased out some new information about the secretive Season 2. Apparently since these new episodes are set in 1984, the show will begin to embrace some of the gloriously goofy styles of the decade. Here's what she had to say:
This year it is very different — we start stepping more into the '80s, which is kind of amazing, visually. Last year was '83 and this year is '84, and they're still in Hawkins, Indiana — but people are starting to realize there are perms and mullets, so we're using a lot of wigs this year, because no one wants perms and mullets.
It's been a fun step. All of the characters have developed. Nancy has kind of a big hair turn this year, too — they decided to do something drastic… That's all I can tell you.
While news about hairdos isn't exactly the most fascinating thing ever, it does indicate that the show is definitely embracing the unexpected. Hindsgaul also debunked another hair-related rumor relating to the closely coiffed Eleven:
We all look at the rumors online — it's fun to see what people are writing. The big one so far for Season 2 was a Reddit post that said there was an ad for extras [willing to] shave their heads, but that got blown out of proportion. We actually needed women who would be willing to cut their hair and get bangs, while all the male extras actually needed to grow their hair out. Some male extras have been growing out their hair for the past nine months.
We find all our extras in Atlanta where we shoot. Last year it was really hard to get people to do anything, but this year a lot of people volunteered to have their hair cut off or to grow it out so we could give everyone the right haircuts.
So add the fact that Nancy will get a crazy '80s hairdo and other minor characters will get bangs to the very short list of details we know about Stranger Things Season 2.