'Stranger Things' Season 2's Max and Billy Are Siblings
Sadie Sink and Dacre Montgomery will play Max and Billy, two siblings in a new Hawkins family!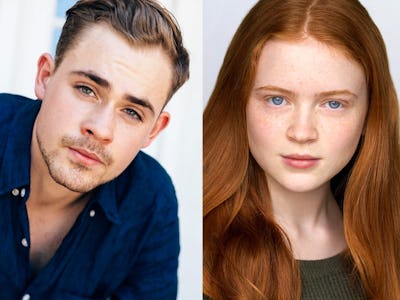 Netflix
Hawkins, Indiana just got two new citizens, which means Stranger Things Season 2 just got two new characters. Actress Sadie Sink will play a new character named Max, while actor Dacre Montgomery (who can be seen in the upcoming Power Rangers movie) will play a new character named Billy. The two characters are step-brother and sister, which adds another central family to the Hawkins community.
Netflix describes Max as a "a tough and confident girl whose appearance, behavior, and pursuits seem more typical of boys than of girls in this era. She has a complicated history and is generally suspicious of those around her."
There's no doubt that the first episode chapter title revealed in the Season 2 announcement teaser, "Madmax", will refer to her and some kind of tomboy nickname given to her because of her rambunctious behavior.
As for Billy, THR says, "He steals girlfriends away from their boyfriends, is great at drinking games, and drives a black Camaro. But lurking under his apparent charisma, is a violent and unpredictable nature."
Does this mean we have the second season's non-Demogorgon villain? Not necessarily; he'll probably be more like an unrepentant version of actor Joe Keery's preppy jerk Steve Harrington character, who along with actor actor Will Schnapp as Will have been upped to series regulars for Season 2.
But Billy and Max do join Jonathan and Will, and Nancy and Mike as another set of brothers or sisters in the supernatural mix.
It's difficult to predict what exactly these two will mean to the plot of Season 2 because Netflix will most likely be sure to keep most of the secrets of their breakout hit just that up until the second season premieres in 2017. The addition of Max and Billy confirm previous reports of these two new characters, while series creators Matt and Ross Duffer have confirmed at least two new characters have still yet to be announced.