Here's Everything New to Watch on Netflix Offline in January
Don't worry, guys, you can watch 'Bee Movie' offline now thanks to Netflix.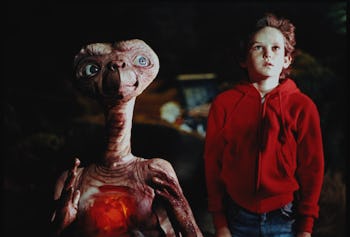 Universal Pictures
When Netflix announced on November 30 that it would be adding a download button to certain titles — mainly to its own original projects — the world rejoiced. Finally, something good came out of November. And with the addition of new streamable content for January comes a separate, but equally important list of the new shows and movies you can now watch offline.
The offline feature will probably be the saving grace of so many people traveling after the holiday season. Just visited your grandparents for the holidays and feeling like zoning out for the entire plane ride home? Pull up the classic Bee Movie and watch a human woman fall in love with a bee. Or, watch a child become besties with Steven Spielberg's extra terrestrial, E.T. There are also a couple of comedy specials on your plate: Jen Kirkman and Jim Gaffigan both have new Netflix Original standups in January to help you start out 2017 with a good laugh. Happy offline watching!
Available January 1
After Innocence (2005)
Bee Movie (2007)
E.T. the Extra-Terrestrial (1982)
HALO Legends (2009)
Real Detective, Season 1 (2016)
The Perfect Physique (2015)
The Rat Race (2012)
To Be a Miss (2016)
Trudell (2005)
Available January 3
Jen Kirkman: Just Keep Livin'? — NETFLIX ORIGINAL
Available January 6
Coin Heist — NETFLIX ORIGINAL
Degrassi: Next Class, Season 3 — NETFLIX ORIGINAL
Growing Up Coy (2016)
One Day at a Time, Season 1 NETFLIX ORIGINAL
Tarzan and Jane, Season 1 — NETFLIX ORIGINAL
Available January 7
Alpha and Omega 7 (2016)
Under the Shadow (2016)
Available January 9
Best and Most Beautiful Things (2016)
Ratchet & Clank (2016)
Available January 10
Happily Married (2015)
Jim Gaffigan: Cinco — NETFLIX ORIGINAL
We're Lalaloopsy, Season 1 — NETFLIX ORIGINAL
Available January 13
A Series of Unfortunate Events, Season 1 — NETFLIX ORIGINAL
Aquarius (2015)
Casablancas: The Man Who Loved Women
Historia de un clan, Season 1 — NETFLIX ORIGINAL
It Follows (2014)
The Investigator: A British Crime Story, Season 1 NETFLIX ORIGINAL
Available January 14
Camp X-Ray (2014)
Cardboard Boxer (2016)
Available January 15
Hostage to the Devil (2016)
Señora Acero, Season 3 (2016)
Twisted Trunk, Big Fat Body (2015)
Wartime Portraits, Season 1 (2014)
##Available January 16
Flash of Genius (2008)
Halloweed (2016)
Rezort (2016)
Available January 17
Neal Brennan: 3 Mics — NETFLIX ORIGINAL
Roger Corman's Death Race 2050 (2016)
Available January 19
Good Kids (2016)
Available January 20
Frontier, Season 1 — NETFLIX ORIGINAL
Papa (2015)
Voltron: Legendary Defender, Season 2 — NETFLIX ORIGINAL
Available January 21
Bates Motel, Season 4 (2016)
Available January 24
Cristela Alonzo: Lower Classy — NETFLIX ORIGINAL
Kill Command (2016)
Terrace House: Aloha State, Season 1: Part 1 — NETFLIX ORIGINAL
Available January 27
Home: Adventures with Tip & Oh, Season 2 — NETFLIX ORIGINAL
Kazoops!, Season 2 — NETFLIX ORIGINAL
Shadows of Truth (2016)
Sharknado: The 4th Awakens (2016)
Available January 30
Antibirth (2016)
Swing State (2016)