Watch Netflix Offline? Screenshots Show 'Download' Button That Might Be Added
You wouldn't need the internet to watch some Netflix shows.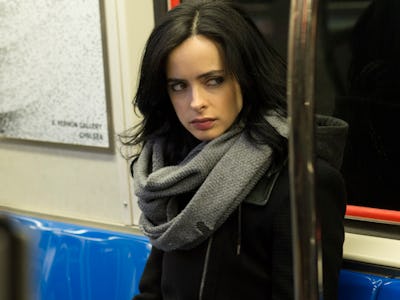 Myles Aronowitz/Netflix
Want to catch up on Daredevil during your subway commute? Feel like bingeing on Unbreakable Kimmy Schmidt on a red-eye from New York to L.A.? That may be in the pipeline. Water-cooler whispers hint that Netflix is developing methods to allow subscribers offline access to certain titles.
A report in Light Reading — includes screenshots that show a "Download" feature — on these rumors offers much to think about, but we don't know when the change will take place.
If Netflix decided to go forward with this feature – something it will neither confirm nor deny as of now – it would harken back to days past. Before the entertainment provider revolutionized internet entertainment by launching its online streaming service in January of 2007, consumers downloaded movies and shows from sites like iTunes. Once streaming began to dominate, we stopped expecting, or simply didn't want to host these programs on our machines, due to limited memory or long download times. Now limited by locales with spotty or slow internet, it's come full-circle.
Amazon launched its standalone streaming entertainment service back in April of this year, and cooked in to that offering was the ability to download some titles for offline viewing. Charter and Comcast already had similar features in place.
But the extent of titles that consumers can expect from each provider is limited by legendarily complicated licensing rights. No service offers its entire library offline. Amazon and Netflix have a clear advantage here because each also produces its own content. Frost & Sullivan Principal Analyst Dan Rayburn told Light Reading not to expect the whole library at the launch of these new Netflix features but, "one would imagine that all of Netflix's originally produced content would be available as a download,since Netflix owns that content."
As to when Netflix's nearly 30-million subscribers can expect these new features? Penthera is a company that develops content download solutions for companies like Starz and Charter, its COO David Taiz told Light Reading: "My expectation is that by the end of the year Netflix will be launching download-to-go as an option for their customers."
Though we most likely won't be able to download all the content secured by Netflix's spending of billions, the moment the option becomes available, we will be able to binge all the titles it produces in-house, while we're on a plane, thousands of feet in the air.
And if you think Kristen Ritter kicks ass as Jessica Jones and don't think Adam Sandler is anywhere near being irrelevant, this news may revolutionize that morning commute.
Isn't that right, Kimmy?