'The 100' Season 4 Trailer Is Dark and Surprisingly Steamy 
The apocalyptic CW drama has a new trailer out featuring death, fighting, and King Roan.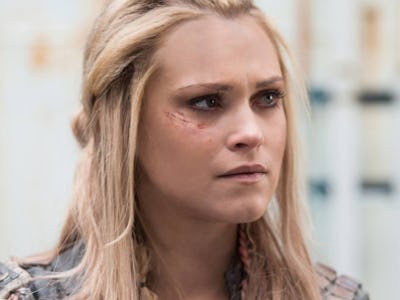 Even after a controversial Season 3, thanks to the death that rocked the internet, it doesn't look like the CW's post-apocalyptic drama The 100 intends to pull any punches in Season 4.
Recall that Season 3 closed with the threat of another impending apocalypse in the form of radiation leaks destroying the planet. Just another Tuesday. Clarke Griffin responded to the threat in a most Clarke Griffin fashion, "You don't ease pain. You overcome it."
But Season 4 is setting up a hell of a lot to overcome with an adrenaline-fueled first trailer. It kicks off with the phrase "death is inevitable," as we see shots of bodies. We then check in with all the members of the gang in various states of distress — Monty looks worried, Kane seems frantic, the new series regular King Roan (Zach McGowan) is fighting like a boss, and Octavia's face-paint game is more savage than ever.
It isn't all nihilism and darkness, though. There are a surprising amount of makeouts — one including John Murphy — and Bellamy and Clarke look to be providing each other with much-needed friendship and support once more. The 100 Season 3 needed more heart, and Season 4 looks like it will bring it in spades along with the typical blood and political intrigue.
Season 4 premieres on February 1 on the CW.