The Year Rap Faced Its Mental Health Issues
"I swear to God, I want to just slit my wrist and end this bullshit."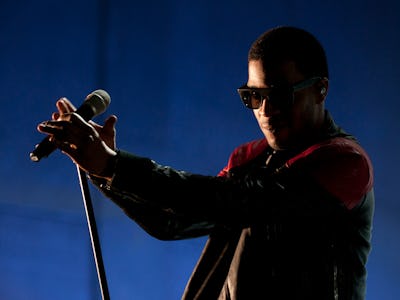 Getty Images / Daniel Boczarski
In 2016, we saw our fair share of Rap Twitter beef due to several artists calling each other out on being fake, stealing music, sleeping with somebody's girl, etc. However, no beef caused a larger debate than the one surrounding Kid Cudi. Kid Cudi went on a Twitter rant in September about fake rappers — namedropping both Kanye and Drake — for being supposed friends who never truly cared about him. At first, Kanye clapped back at Cudi by saying that Kanye "birthed him" and referring to his music as "emo shit," something Kanye would later apologize for. A month after Cudi spoke on Twitter and a couple of weeks after Cudi checked himself into rehab for depression/anxiety, Drake dropped a diss song called "Two Birds, One Stone". In the song, he comments on Kid Cudi's struggles with depression and the drugs that Cudi uses to deal with his mental illness.
The diss created a surge of responses on social media from fans who dragged Drake for his thoughtless statements on mental illness. From there, mental illness evolved into an even larger a hot button issue in the rap community. Kanye West recently checked himself into a facility, but has since been released and is doing well. J. Cole released the song, "False Prophets, which called on Kanye to receive help for whatever issues that he may be dealing with. The second verse of "False Prophets" references Wale, who later released the song "Groundhog Day" in response to Cole's song about him. Wale raps, "Hey, here go that real shit / Battling anxiety and privately them Percocets / Purchased like 30 of them, murdered them in like 30 hours." He also speaks about his depression later on in the song and not receiving the same outcry of support that Cudi received.
One thing is certain, though. Rap artists are not afraid to speak about their mental issues anymore. For a long time, mental health was a taboo subject in rap music despite artists like the Notorious B.I.G., DMX, and Scarface speaking out about paranoia, suicide, and depression. Even up to a few years ago, Tyler, the Creator and Kid Cudi's music was considered emo rap music, lacking masculinity and reserved for a specific sector of rap fans who were considered soft. That mentality comes from the way we view mental health issues in the Black community, especially in regards to Black men. People who have mental problems are considered to be weak and and are often told they need to find a way of getting over it. We treat it as if it is not a credible problem — even though the suicide rate in Black children ages 5-11 has doubled since 1990s.
We now know that relatively high rates of poverty are linked to mental issues. We also know that seeing ourselves constantly being killed on television triggers PTSD-like trauma. But, as rise of rappers talking about their mental health shows, we're beginning to learn more about ourselves and dispel the many stigmas about mental illness. YG's second studio album, Still Brazy, spoke a lot about the paranoia that the rapper felt following his getting shot at his studio. Grammy nominated artist, Chance the Rapper, spoke about his addiction to Xanax on Coloring Book. As mainstream artists begin to speak about it more and because through social media we can now clap back at artists who stigmatize mental illness, people who struggle with their issues no longer have to feel as if they are alone. There are plenty of outlets in the music that we listen to and we are a couple steps closer to a more understanding society.