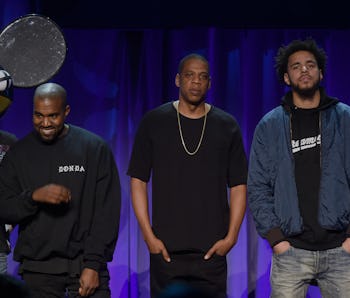 Entertainment
No, Idiots, J. Cole Isn't Dissing Kanye, He's Analyzing
"There was a time when this nigga was my hero."
Getty Images / Jamie McCarthy
J. Cole is set to release his fourth studio album, 4 Your Eyez Only, two years after he dropped 2014 Forest Hills Drive, a critically acclaimed, double platinum masterpiece. On Friday, he confirmed rumors of the upcoming work by dropping a 40-minute documentary, entitled Eyez, on Tidal. The documentary shows Cole in the studio working on his new album, and with this next release he promises he'll hold nothing back. He said, "You're never guaranteed to be this high again. And while I'm here, let me use this opportunity to say the realest shit I've ever said."
And that he did. The documentary features two new songs from Cole: Everybody Gotta Die" and "False Prophets". On "False Prophets," Cole raps over the phenomenal, laid-back, boom bap "Waves" instrumental produced by Freddie Joachim. He delivers a stirring sermon to his fans about our idolization of musicians, neglecting the lyrics and the message in an effort to appease critics who have never picked up a mic. At the end of the song, he gives his most dedicated fans a powerful message. He raps, "This is dedicated to the ones who listen to me on some faithful shit / I'm on some thankful shit / But the real God is in you, not the music you coppin' / I hear my old shit and I know I can top it". He tells his fans not to worship him, and to also hold him accountable for the music he is creating, forcing him to go above and beyond.
In the first verse of the song, J. Cole is talking about a childhood rap hero, who is steadily falling from grace, surrounded by "yes men" who are egging him on instead of giving him the help that he needs. People are saying that he is talking about Kanye, and all evidence rightfully points to that being true. However, there is a ton of debate on social media on whether or not Cole had the right to come at Kanye. Other hip-hop news sites are calling it a diss in a possible effort to get clicks on an easy headline designed to stir up controversy. But, do not fall for it. That verse was not a diss; rather, it was a critique from the perspective of an old Kanye fans point of view.
Any time a rapper makes a reference to another rapper, people immediately jump to calling it a diss or a shot, neglecting the fact that rap is nothing else but an analyzation of the world around them and the things that they see. But, the sad part is that he is actually telling the truth. We idolize Kanye and coin his changes as "the evolution of the artist". But, let's be honest, Kanye's music today is not nearly as good as Graduation or My Beautiful Dark Twisted Fantasy in terms of the message. Kanye's sound will always be good. But, the entire message of what he used to rap about has been lost. His music used to be about family, love, God, and good times. Now, most of it is about hyping himself up. He makes great songs. But, the quality in the rap has significantly diminished. We are the ones to blame for letting this happen to him.
Some people are also saying, "What is the difference between J. Cole dropping this record while Kanye is seeking help and Drake dropping 'Two Birds, One Stone' while Cudi was in rehab?" The difference is that Cole is trying to help Kanye. He ultimately hopes that Kanye gets help. Drake never voiced such concerns. We should have been worried about Kanye when he started proclaiming himself as a god. We are all seeing Kanye's fall from grace, and it culminated in his having to be rushed to the hospital. Instead of finding help for him, we watch it, consume it, and laugh at it. J. Cole is echoing a lot of the sentiments of old Kanye fans.
With all that being said, this new J. Cole album is going to be great. When it drops on the 9th, Cole will surely take the rap world by storm. This has been a great year for music and Cole will just be the icing on the cake. Be thankful that the ville is back.