Kanye West Is Dead Wrong, He Didn't "Birth" Kid Cudi
Put some respek on his name.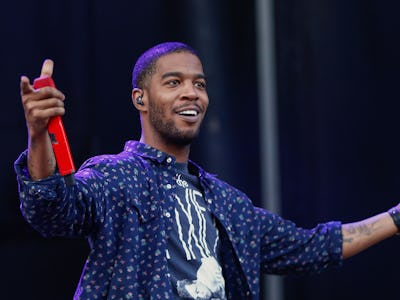 Getty Images / Michael Hickey
When Kanye announced he was working on music with Drake, many people were excited to hear the news, believing that the two were about to create some of the greatest collaboration records since Drake and Future dropped What a Time to be Alive. However, former G.O.O.D. Music artist and Kanye West protégé, Kid Cudi, had something to say about the announced collaboration. In a series of tweets, Kid Cudi spoke about ghostwriting and loyalty, namedropping both Kanye West and Drake as people who "dont give a fuck" about him.
At his concert in Tampa, for the Saint Pablo Tour, Kanye West responded to Kid Cudi's comments in the middle of his remix to Chief Keef's "I Don't Like." In his speech, Kanye exclaimed, "Kid Cudi, don't ever mention Ye name. I birthed you." He later went on to speak about dealing with Cudi's "emo shit" and how Cudi should show respect to "the God." Ye stated:
Kid Cudi, we're two black men in a racist world. I wore skinny jeans first. I got called names before you, bruh. Why y'all gotta be coming at me? This ain't the end of the Malcolm X movie. I'm out here fighting for y'all: creatives, artists, independent thinkers. Don't never mention my name in a bad manner.
Now, let's get one thing straight: Kanye did not "birth" Kid Cudi. For Kanye to say something like that is utterly disrespectful and demeaning to the impact that Cudi not only had on G.O.O.D. Music, but on hip-hop culture in general. Many of us were first introduced to Kid Cudi through his song, "Dat New New", which proclaimed that we "could look all over the world," but we'll never find "hot shit" like the music that Cudi was creating.
Some would take this as a bold statement from a relatively unknown rapper at the time, but Kid Cudi's first mixtape, A Kid Named Cudi, delivered such a different sound that it caught the attention of a whole host of young people who fell in love with the melodies and the singsong voice that Cudi revealed through his records. Some of the standouts from that mixtape include "Maui Wowie," "Cudi Spazzin,'" and the song that would eventually propel Kid Cudi into super stardom: "Day 'N' Nite."
At this point, Kid Cudi still was not signed to G.O.O.D. Music. It wasn't until Kid Cudi did work for both Jay-Z and Kanye West on The Blueprint 3 and 808s & Heartbreak that he was signed. In a Complex cover story in 2009, Kanye cited himself and Cudi as the originators of the 808s style. In fact, Cudi played a big part in the 808s album. He co-wrote some of the most popular tracks: "Heartless", "Welcome to Heartbreak," "Robocop," and "Paranoid." The album is seen as a switch up for Kanye as he diverts from his old-school sound and content, instead utilizing 808 drums to alter voices to create a whole new beat and sound.
At the same time, there is no denying that Kanye did do a lot for Cudi. He was the executive producer on Cudi's first album, Man on the Moon: The Sky Might Fall, and co-wrote two songs on the album. For Man on the Moon II: The Legend of Mr. Rager, Kanye had a lesser role, but was still featured on the popular song, "Erase Me." In 2010, after a screening of the short film "Runaway," Kanye said, "Kid Cudi is my favorite artist. If I could make music like someone, I'd like to make music like him. I like that emotion, really heartfelt."
Therefore, for Kanye to come at Kid Cudi and say that he "birthed" him is completely backwards; Cudi played a big role in the development of Ye's sound. We cannot go back in time to see what would have happened if Kid Cudi never met Kanye, but it would be fair to assume that both probably would not be the same without each other's influence. Kid Cudi was already gaining his own popularity and fanbase before Kanye put him on G.O.O.D. Music, and Kanye was already a well-established rapper and innovative producer. Did Ye play a part? Yes. Did they essentially need each other? No.
It's also sad that Kanye would refer to Cudi's music as "emo shit", considering he was in awe of Cudi's tone just years ago. The introspection Cudi shows throughout his music makes him one of the most heartfelt artists in the game. He delivers subjects to an audience of rap fans, and to the Black community, that we often don't discuss. Mental issues, depression, and drug addiction are real problems, and Cudi was one of the first contemporary artists to make a name for himself exploring those intimate issues. Music can often be a coping mechanism, and it feels even better to know that you are not alone in your struggle. Kid Cudi opened up the door for more real emotion in rap music, and that matters.
At the end of the day, Kid Cudi was right, though. He doesn't get enough credit for the work that he has put into the rap game. However, we like to tote rappers who have been known to use ghostwriters as the greatest in the game. Kanye, as a person who respects artistry and integrity, should not be creating tracks with Drake if he is using ghostwriters. It cheapens the music and the quality of rap. His emotion is fabricated and the topics he speaks about are not authentic. Don't come at Kid Cudi for speaking truth.