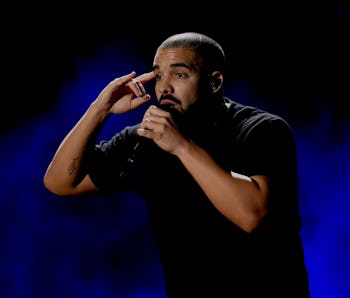 Entertainment
Drake's Kid Cudi Diss Exposes an Ugliness Toward Mental Illness
You have to shoot the fair ones.
Getty Images / Kevin Winter
In Kid Cudi's first tweet since entering a rehab facility for depression and suicidal urges, he called out Drake for referencing him in the song, "Two Birds One Stone." Drake's diss track premiered Sunday evening on Ep 32. of OVO Sound Radio. Kid Cudi hasn't been one for back-and-forth sneak-dissing on rap tracks, though. Instead, he told Drake, "Say it to [my] face pussy. You think it's a game. I wanna see you say it to my face. I'll be out soon. Promise."
The problems between Drake and Kid Cudi started when Cudi took aim at fake artists who proclaim themselves as great, but use ghostwriters to help them with their music. Originally, Drake only made a small reference to Cudi during one of his concerts. Kanye West went off on Cudi during his concert stop in Tampa for the Saint Pablo Tour, but he later apologized and dedicated a performance of "Father, Stretch My Hands" to Cudi. Though Kanye seems to have found the light, Drake has gone on to unnecessarily diss Cudi almost a month after Cudi made his initial comments about original writing.
In "Two Birds, One Stone," Drake takes aim at both Pusha T and Kid Cudi, but it's his Kid Cudi diss that has received a large amount of criticism as Drake seems to be poking fun at Kid Cudi's mental health, and his attempts to manage his depression. Drake says, "You were the man on the moon / Now you just go through your phases / Life of the angry and famous." "Man on the moon" is, of course, a direct reference to Kid Cudi's debut album, which has been credited as influential by many hip-hop artists, including Drake, who had a cameo in the "Pursuit of Happiness" video. Drake went on to say, "Still never been on hiatus / You stay Xann'd and Perc'd up / So when reality set in, you don't gotta face it." Cudi has spoken about his problems with drugs and how he has used them to help deal with his depression and anxiety, so knocking him for addiction and using medication for mental illness feels like an especially low blow.
The problem with Drake's diss is that it is a prime of example of why Kid Cudi had some trouble checking himself into rehab in the first place. We tend to label mental illness as a phase — as something that a person can easily overcome alone.
Those who to deal with mental illness are often called soft. Many of us still don't recognize their concerns as "real" problems. Kid Cudi spoke about his mental issues through his music in order to let kids know that they're not alone in their problems.
Comedian and SNL actor Pete Davidson said it best on his interview with The Breakfast Club when he stated, "If you're 25 and under, I truly believe that Kid Cudi saved your life".
Drake using Cudi's mental problems as a diss is corny and a slap to the face of not only Kid Cudi fans, but fans of Drake's music who have mental issues as well. It's irresponsible.
Furthermore, Drake is the wrong person to call those with mental illnesses "soft": his music is some of the most emotional — soft, even — material that we've seen from a rapper of his status. One could go all the way back to the Comeback Season mixtape, on which Drake dedicated an entire song ("Replacement Girl") to his exes.
To make things worse, Drake's music, as Cudi points out, can be criticized for not being "authentic." Drake is Canadian-born rapper who started out as an actor on Degrassi. In a ranking of softest hip-hop to hardcore rap music, Degrassi lands somewhere near Iggy Azalea — but the man can rhyme so we give him a pass.
If Drake dissed Kid Cudi shortly after Kid Cudi put out the tweet, we would have understood the reason to reference him in a diss track. However, it's been weeks and we're left to presume that Drake has been stewing over it. As a matter of optics, none of this looks good for Drake. Meek Mill caught heat for waiting a week to respond — imagine how a whole month looks.