BMW ReachNow Is Expanding Car-Sharing — and Classing It Up a Bit
BMW is casting a wide, high-tech net.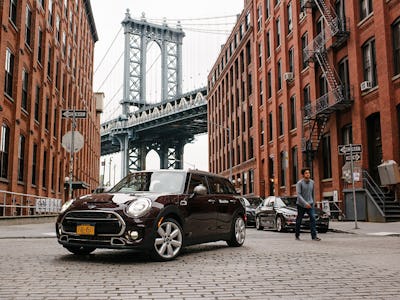 ReachNow
In lower Manhattan's Battery Park City — close enough to the World Trade Center that it almost hurts your neck to look up at the spire on top — a squad of shiny new BMWs sits outside a swanky apartment building, the Solaire. All the residents of the 27-story building have the option to stroll down to the garage and hop in one of the luxury rides at their whim. It's just the latest innovation in a laundry list of ways that BMW is offering people a chance to have a (fancy) car without needing to actually own a car.
The squad of six cars in the Solaire's garage is the first site-specific endeavor for ReachNow, BMW's car-sharing service — though CEO Steve Banfield tells Inverse that what the company really does is "mobility services."
"We're blurring the lines between what people have historically thought of as car sharing and ride sharing," Banfield explained in an interview following a speech at ReachNow's launch event earlier this month at the Solaire. The cars at the luxury apartment building might be reserved for the building's tenants, but the Seattle-based BMW subsidiary wants to expand the program to other apartments and workplaces. This aspect — cars tied to once specific building — is only a very small part of what ReachNow does.
The bulk of the service is a free-floating fleet of cars ready to be picked up off the street on a whim, and then returned to any convenient parking place. After users download the ReachNow app and register, they use it to locate a car somewhere in the area. Then all they need to do is walk up to the car and the app will unlock the doors for them. The car — either a BMW or a Mini Cooper — is theirs to drive for 41 cents a minute, making it a solid choice for shopping trips with multiple stops or a weekend getaway.
The same app is also a gateway to ReachNow's other services, including a reservation service and peer-to-peer sharing, so BMW and Mini owners can make some extra scratch with their car when it's not being. used. Car owners simply add their ride it to a pool of cars used by ReachNow's professional drivers. If the concept sounds a lot like Uber, that's because it is. Banfield doesn't mention the competition by name, though.
"There are certain nights — New Year's Eve is always the easy example — where more people want to be driven than want to drive. [ReachNow drivers are] more than happy to drive them," Banfield says. "There are other days on a weekend, on a beautiful Saturday in the fall, when more people probably want to drive themselves and get out of the city and go somewhere else." ReachNow wants to make sure they have a sweet ride in a BMW either way.
The service is currently only available in Seattle, Portland, and most recently, Brooklyn (and, well, the Solaire's garage in Manhattan). ReachNow plans to keep expanding at a rapid rate, though. It only launched in its first city, Seattle, in April with a fleet of 370 cars. Now, at the end of the year, it claims 1,300 across its trio of locations.
BMW is a luxury car brand, and it's telling that the automotive giant wants to get involved in the ride-sharing and car-sharing field. Even if cash-starved millennials aren't going to be buying a swanky 7 Series anytime soon, BMW's pushing to supply the car getting them around the city — and getting their business.
"When you think of BMW, remember we own Rolls Royce, we own Mini. BMW is an aspirational brand, in some ways, for many people," Banfield says. "What we do at ReachNow is we take that idea of aspiration, and we make it available for 41 cents a minute to anybody with a valid U.S. drivers' license, and a credit card, 18 and up."
Banfield says that providing a range of driving options isn't just good sense for BMW (ReachNow is a counterpart to the company's car sales, not a rival), but it's also good for the environment and roads.
"People ask, 'isn't adding more cars to the city making the traffic and parking problem worse?'" Banfield said during his presentation at the Solaire, but quickly countered with the idea that ReachNow reduces cars on the street because it puts them out there on an as-needed basis. "It takes between three and ten cars off the road," he claimed.
ReachNow is a pretty sweeping venture into the car-sharing and ride-sharing field, but BMW isn't done. Banfield says that the ease at which users can choose from a variety of transport options using the app should make them more comfortable for the company's future endeavor: adding autonomous cars to the fleet.
"You'll have an option in the app to say, 'I don't want the human to drive, I want the car to drive for me,'" Banfield predicts. "People will start to get exposed to these kinds of things and learn about these experiences through services like ours."
At that rate, it's not that hard to imagine one day, if all goes well, you'll be able to hail a flying car with a simple swipe on the ReachNow app.