Will Samsung and BMW Build Self-Driving Cars Together?
A speculative look a potentially exciting partnership. 
by Sam Blum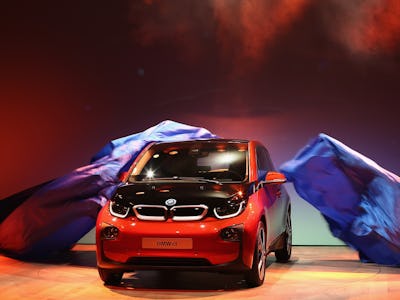 Getty
This week, both BMW and Samsung have made public their respective schemes to enter the market for self-driving cars.
On Wednesday, Samsung announced a new division tasked with achieving driverless technology, while BMW Chief Harald Krüger flung a few verbal daggers in the direction of Tesla when he announced his company's plans to unveil superior autonomous technology in the not-too-distant future.
Samsung, which is the largest producer of smartphones and gadgetry worldwide, has worked with BMW in the past: The South Korean tech giant supplied batteries for the German automaker's electric vehicles — the i3 and i8.
Krüger has suggested that BMW's eventual driverless technology won't function on a similar trajectory to Tesla's, which has tested Autopilot software in the wild, rolling out updates on a piecemeal basis. Krüger doesn't believe in that strategy, and told German outlet Handelsblatt that BMW's "technology must be 100 percent reliable," before it hits the market.
The news of Samsung's foray into the world of driverless technology shouldn't come as a surprise: The company's primary competitor, LG, is already primed to produce components for the first electric vehicle produced by General Motors — the Chevrolet Bolt EV — while other tech conglomerates like Apple, Google, and Panasonic have already made impressive strides in the development of self-driving vehicles.
Samsung's venture into the automotive industry's newest frontier can also be viewed as something of a diversification strategy, given its declining smartphone sales as of late.
On Wednesday, Samsung issued a rather opaque statement regarding the matter, saying it "will focus on infotainment systems and self-driving cars in the early stage and then seek business synergies with other Samsung companies."
There's no word on an official partnership with BMW at present, however.