How Can Apple's 'Titan' Car Avoid Being a 'Money Loser'?
Apple could approach an auto-maker to build its massive, rolling iPhones.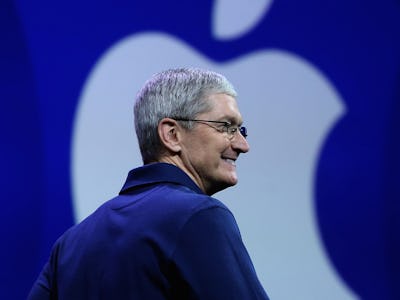 Getty
Citing "people familiar with Apple's plans," The Wall Street Journal reports the tech company has dedicated a significant amount of its resources to getting an electric car shipped by 2019, but could the company's offering compete with driverless models under development by Google and Tesla?
The Journal report suggests the project, code-named "Titan," is set to be a huge line-item in Apple's development plans, tripling the workers focusing on the auto from 600 to roughly 1,800. Rumors reports suggest the car will not be able to drive itself, a move The Atlantic notes could signal Apple's intentions to establish itself in the car industry first and foremost. Apple is the unique brand with a name that already carries weight as a lifestyle product among consumers — and cars are nothing if not lifestyle products. By letting its competition lead the charge on driverless vehicles, Apple would allow Google and Uber and Tesla to fight out the regulatory period.
Because whatever Apple does release, the company is simply too far behind Elon Musk to own the roads the way Tesla will in that same time frame. And the Tesla brand name has some of the same cache among car enthusiasts as Apple would likely target.
Quartz reports that not only will Tesla have at least four models out by the time Apple unveils just one, the company will also have established charging stations and personal ports making it easy for a Tesla driver to cross the country without worrying about a dead battery. Musk's company also has a leg up on getting its prices down.
It's the profit margins that have drawn the most criticism. Shortly after the Journal's story broke, former GM and BMW exec [Bob Lutz] told CNBC that Apple was on the verge of disaster, a "gigantic money pit" or deadly proportions. Here's his unvarnished projection:
"If I were a shareholder I'd be very upset because they're currently engaged in a very high-margin business and the automobile business, at best, is a very low margin business. And you can't show me one company in the world that, to date, has made a nickel on electric cars. They are generally money losers and the only reason that everyone is producing them is because they are necessary to meet European fuel economy regulations and U.S. fuel economy regulations. There is absolutely no reason to assume that Apple is going to be financially successful in the electric car business."
But Lutz also noted that Apple could go to another company like KIA or Honda to manufacture the cars that would be, essentially, the guts for massive rolling iPhones. And as The Christian Science Monitor noted, that's a model that's worked very well for Apple's mobile tech, by far the biggest money makers for the company. Once its competitors are done working out the cost of doing business, that could be the advantage that lets Apple dominate the market.