'Final Fantasy XV' Patch Updates Will Keep Introducing New Bosses and Hunts
Look forward to exclusive rewards and limited-time events.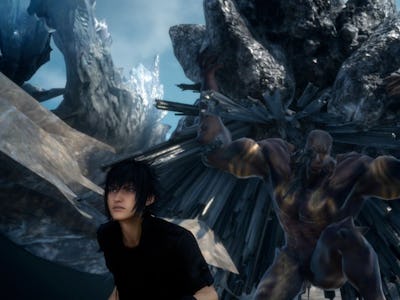 ytimg
Game director Hajime Tabata dropped some details yesterday about upcoming downloadable content for Square Soft's Final Fantasy XV — a feat largely unprecedented for the series — and among the updates will be "new bosses with exclusive rewards and achievements, and limited-time hunts." Woah!
Though other parts of the updates mentioned involve enhancements to the story, and things like a buff to ring magic, these updates will no doubt be mostly end-game caliber additions meant to appeal to the Achiever-Killers in the Bartle gamer taxonomy. These will largely be for the fans whose fondest memories in the series include the following: defeating Ruby and Diamond Weapons in Final Fantasy VII, conquering the Deep Sea Research Center in Final Fantasy VIII, or heck, even the Sephiroth duels in Kingdom Hearts I and II.
Keep in mind that the model for a Diamond Weapon was used during Kingsglaive in its kaiju sequence during the assault on Insomnia. Several Diamond Weapon daemons do battle with the giant Old Wall statues, and though they don't appear in Final Fantasy XV properly, we wouldn't be surprised if an optional battle against one of these daemons was later added to the game. Bigger, badder daemons are solid options for high-end bosses like these, but even more likely would be the addition of more Summons, or Astrals, to the game. Currently, Final Fantasy XV only includes a handful, but there is a plethora of options to choose from in the Final Fantasy canon. Phoenix, Alexander, and even Brothers would be great options for XV's style, but most conspicuously absent so far is Odin. Director Tabata revealed in a Game Informer interview that his favorite creature from the series is Odin, and he also said, "We're sort of evaluating whether or not the Tonberry will show up in FFXV."
The "exclusive rewards" mentioned will no doubt include newer and better weapons, or even spells. Remember that beating the Emerald Weapon way back in Final Fantasy VII got you Master Materia for Commands, Magic, and Summons, which were basically OP.
The "limited-time hunts" mentioned could tie into certain holiday-themed events or even just provide greater challenges for players looking for more from their post-game experiences. Even more importantly, from a practicality standpoint, it will be a way to maintain consistent interest in the game so they can bring lapsed players back into the fold. Square Enix could conceivably set up an endless amount of progression on your Hunter level, and future hunts could offer unique, possibly even themed items as rewards.
Between new bosses and hunts, we might see Noctis and company running around in Santa hats for defeating Christmas elves… or something like that. Considering the popularity of holiday clothing and skins for characters in games like Overwatch, here's to hoping for Santa hats for Noctis and company.